A Beginner's Guide To ATV Riding :What To Wear | XYZCTEM®
by: Clarie Lum -
Are you an outdoor person? Are you an adventurous person? Is ATV riding your dream tour?
It doesn't matter whether you are adventurous or an outdoor person because ATV riding is an enjoyable activity that gives pleasure and satisfaction.
As an ATV rider, you don't only need to focus on your motorcycle, but also give attention to the outfit you put on. Having a proper outfit for your ATV riding will not only keep you safe, but you will also feel comfortable on your motorcycle.
Don't know what to wear for your ATV riding? Here is the following item to put on that will give you that safe, remarkable, and pleasant experience.
Always wear a full-face helmet
One of the most important things you should always look out for while on ATV is safety. Safety is essential and this can be ensured by putting on a high-quality and well-fitting helmet to prevent head injuries and fraction.
Try to get a helmet made with lightweight material. This will ensure proper ventilation and comfort. There are different colors of helmets and the type you choose should depend on your ATV riding. As an ATV rider, the choice of your helmet  is a vital decision. So choose wisely.
Wearing a full-face helmet is one of the most significant items for your ATV tour because it gives protection against UV rays.
Always put on a riding jacket
When going for ATV riding, it is advisable to pack clothes you could afford to  get dirty but at the same time, are durable enough to withstand some wear and tear.
It is safer to put on a long sleeve shirt. These will protect your skin from sun exposure and debris. Putting on a riding jacket will keep you more comfortable and safe. For example, if you decided to go for a cold weather adventuring, a waterproof riding jacket will keep you cool while in the rain. It is crucial to go for riding jacket that suites ATV Adventuring.
Put on a riding gloves
Riding gloves are really necessary and significant while on ATV tour  because they offer protection against chifing, airborne stones and debris
A good riding gloves should come with a lot of padding, adjustable wrist straps for perfect fits and a solid grip. Lightweight riding gloves will be advisable in hot weather. This will ensure that there is proper ventilation to your hands. During the winter, it is okay to have waterproof gloves with you. This will give your hands the warmth it needs to make you feel comfortable.
Put on long durable pants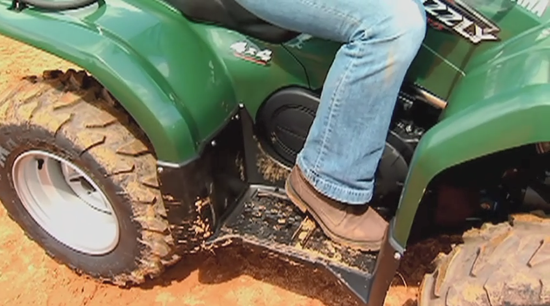 You might have seen some people putting on short during ATV tour. Putting on short pants is incredibly comfortable, but they are not the best for ATV riding because you are going to travel through some rough terrains, unpaved roads so exposing your leg to some risk does not worth it at all. Pack long durable pants like jeans.  These will offer you protection against any hurt that might occur in the process of the adventuring. Avoid light pants that could easily tear, and put on a durable pant that will make the journey comfortable for you.
Wear Riding Boots
 As an ATV rider, you move your leg often while riding, therefore it is significant you protect your feet by putting on ATV riding boots. Before buying any boots, make sure it comes with a lot of padding, and make sure it is made with a leather and plastic material. Don't just buy the boots by just looking at it, but try to put it on to see how comfortable you are while wearing it. And also pay key attention to the buckles. Because they are the first thing to fail.
Having proper riding boots will not only keep your feet safe, but it will make you feel comfortable while riding.
Socks are usually recommended to keep your feet warm
Waterproof bag
You can keep your gadgets, document, and other important items from water spoilage.
Sunscreen is important
After covering your head with helmet, and your hands and leg are well covered, what then is the use of the sunscreen?
Sunscreen is an essential item you must put on when venturing for an outdoor activity. Sunscreen offer protection in a winter or cloudy day. Sunscreen provides protection against sun burn, redness and inflammation of the skin.  As you can see, the great benefit of putting on sunscreen cannot be underrated.
It will make you feel comfortable whilst while riding. 
Other items include
Don't wear flip-flops
You can also wear a riding bandana.
Final thought
ATV riding is a great adventure tour and with the right clothes in place, you will find it much more enjoyable, remarkable and s,afer.
Wishing you a great and super riding!!!