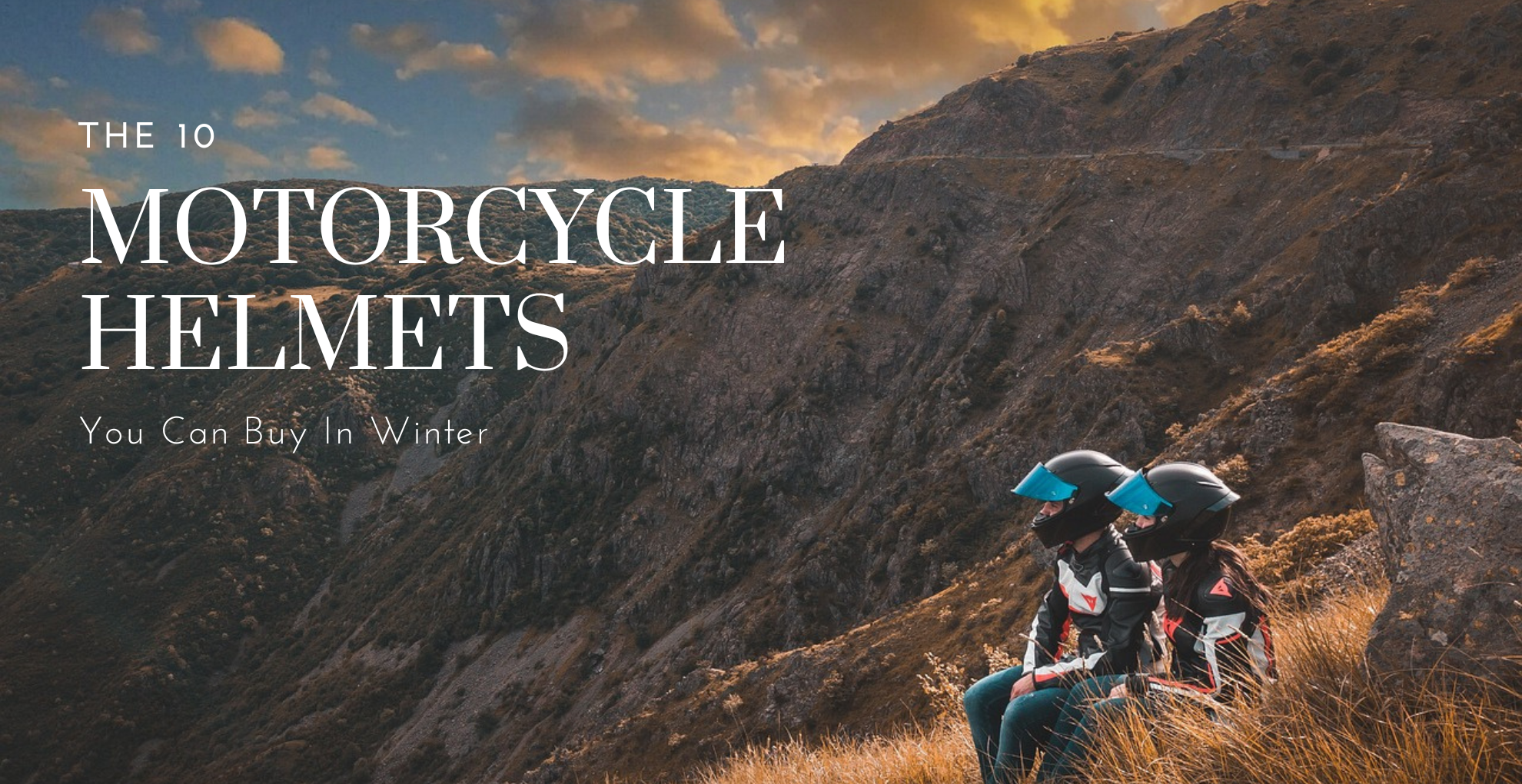 The 10 Best Motorcycle Helmets You Can Buy In Winter | XYZCTEM®
by: Clarie Lum -
Riding a motorcycle demands special attention to safety and comfort. The helmet is one of the most critical components of a rider's gear. A high-quality motorcycle helmet is essential to protect against potential accidents and harsh weather conditions. We will delve into the ten best motorcycle helmets available in the market, designed specifically for winter riding, considering features such as insulation, visibility, and fog resistance.
What To Look Out For In A Motorcycle Helmet
When purchasing a motorcycle helmet, several crucial factors are necessary for safety and comfort.
Fit
Adjusting your motorcycle helmet every second is a distraction that can cost you. The helmet should be a perfect fit without any form of discomfort. It should sit evenly on your head and cover your forehead. 
Retention System
Check the strap or retention system. It should be secure, easy to fasten and release, and snug enough to keep the helmet in place during a crash.
10 Helmets to Buy in Winter
Shoei GT-Air II
The Shoei GT-Air II helmet is one of the best motorcycle helmets one can buy in winter. It features an Advanced Integrated Matrix (AIM+) shell, which combines multi-composite fibers for increased rigidity and impact absorption. The helmet has a sleek shape and integrated spoilers for improved aerodynamics, reducing wind noise and turbulence at high speeds. 
GT-Air II comes with an internal drop-down sun shield, allowing riders to quickly adjust for varying light conditions without needing an additional visor. The helmet also features a pin-lock anti-fog system, which helps prevent the visor from fogging up during colder and wet conditions, ensuring clear visibility. 
Arai Signet-X
Arai Signet-X ranks second on the list of the best motorcycles you can buy in winter. It is built with high-quality material that offers comfort to riders. Aside from this, it has a  pinlock anti-fog system and a giant visor that provides excellent visibility even in chilly conditions. The Signet-X also boasts a reinforced shell for maximum protection. 
It uses a complex laminate construction (CLC) shell, which combines multiple layers of fiberglass for increased strength and impact resistance. The Signet-X features multiple intake and exhaust vents that efficiently channel airflow, keeping the rider cool.
AGV K6
The AGV K6 is a versatile helmet designed for all seasons. During winter, its moisture-wicking interior lining keeps the rider dry and comfortable. The K6 also features a wind tunnel-tested aerodynamic design to reduce noise and improve stability, which is crucial in wintry riding conditions. 
AGV K6 features a carbon-aramid-fiberglass shell for lightness and strength, a five-density EPS inner shell for impact protection, rear and top vents with a spoiler for improved aerodynamics, and an adjustable visor to suit different riding positions.
Schuberth C4 Pro
The Schuberth C4 Pro is a modular helmet that excels in winter weather. It has an advanced ventilation system and an integrated, anti-fog Pinlock visor. The helmet's tight seal offers exceptional insulation from cold winds, making it an ideal choice for winter riders looking for the best motorcycle helmet.
The C4 Pro features a flip-up front that allows the helmet to be used in full-face and open-face configurations, offering versatility to riders. The helmet's aerodynamic design reduces wind resistance and noise, ensuring a quieter and more stable ride. 
Bell Qualifier DLX MIPS
The Bell Qualifier DLX MIPS stands out as one of the best motorcycle helmets for its Multi-Directional Impact Protection System (MIPS) technology, which enhances impact protection. The helmet's Transitions Adaptive Shield automatically adjusts tint levels to optimize visibility in changing light conditions, a handy feature during winter rides. 
The helmet has a Transitions Adaptive Shield for automatic tint adjustment and contoured cheek pads for enhanced comfort.
HJC RPHA 11 Pro Carbon
The HJC RPHA 11 Pro Carbon is a lightweight yet robust helmet built for high-performance riding. It's advanced aerodynamics and fog-resistant shield make it an excellent choice for winter sports bike enthusiasts. The RPHA 11 Pro Carbon features a lightweight and durable carbon fiber shell, offering excellent impact resistance while reducing overall weight. 
The helmet has a sophisticated ventilation system, including adjustable vents at the chin, forehead, and rear, allowing riders to control airflow and maintain optimal comfort in various weather conditions. 
The Shoei RF-SR
The Shoei RF-SR is a popular motorcycle helmet known for its advanced features and high-quality construction. The RF-SR comprises an Advanced Integrated Matrix (AIM+) shell, a combination of fiberglass and organic fibers, providing a lightweight yet strong and impact-resistant structure. 
The helmet has an efficient ventilation system featuring multiple intake and exhaust vents to keep riders cool and comfortable during rides. Also, it has an Emergency Quick Release System (EQRS), which enables emergency personnel to remove the cheek pads easily in case of an accident.
Shark Spartan GT Carbon
The Shark Spartan GT Carbon combines style and functionality. Carbon fiber and fiberglass composite shells offer superior strength without compromising weight. The helmet's anti-fog visor and efficient ventilation ensure a clear view and a comfortable ride in winter conditions.
The helmet has an integrated sun shield for sun protection in winter, an EPS multi-density liner for optimal energy management, and an auto-seal system for better soundproofing and reduced draft.
Scorpion EXO-AT950
For adventure riders, the Scorpion EXO-AT950 is an excellent choice. Scorpion EXO-AT950 features an advanced LG polycarbonate shell which provides impact protection. The Dual-density EPS provides for better energy absorption. 
Its unique peak visor design helps deflect wind and precipitation, while the internal sun visor improves visibility during low light conditions. The EverClear no-fog face shield is a bonus for winter rides.
LS2 Valiant II
The LS2 Valiant II is a modular helmet built for convenience and comfort. It features a durable shell with a built-in sun visor for improved visibility. Its full-metal latch system ensures a secure fit even in cold weather. 
The Valiant II's moisture-wicking lining keeps riders dry during long winter journeys. The helmet consists of a KPA (Kinetic Polymer Alloy) shell for strength and lightness, an Integrated sun shield for sun protection in winter, a FogFighter system for clear vision in cold weather, and a Hyper-flow ventilation system for optimal airflow.
Conclusion
When it comes to riding, investing in the best motorcycle helmet is crucial for both safety and comfort. However, each of the ten helmets mentioned above offers unique features to cater to different riding styles and preferences. Also, consider your riding needs, weather conditions, and fit when choosing a motorcycle helmet to ensure a safe and enjoyable riding experience.