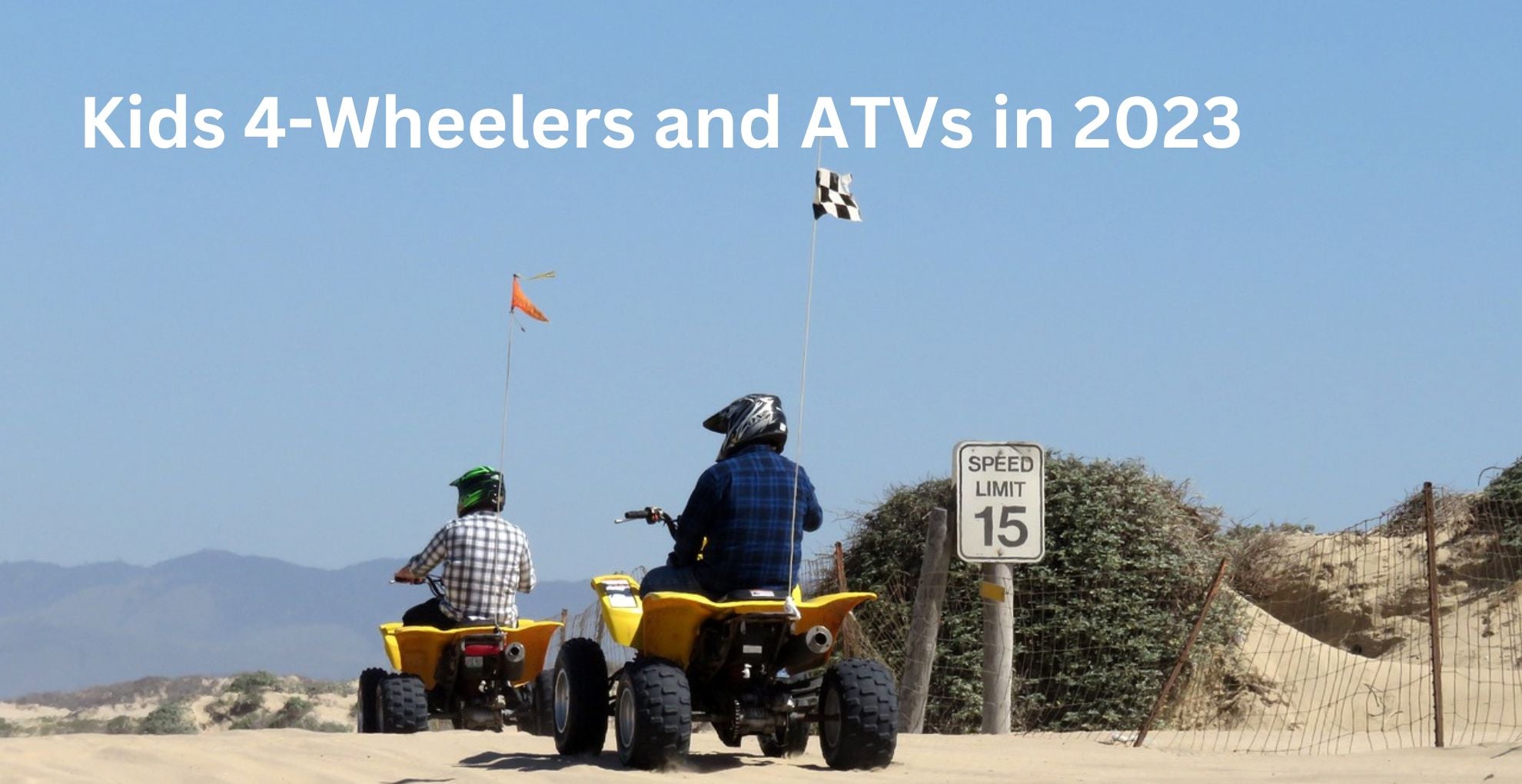 The Best Kids 4-Wheelers and ATVs in 2023 | XYZCTEM®
by: Clarie Lum -
Who says your kid is too small to ride a 4-wheeler or ATV? Riding a 4-wheeler can be so much fun, regardless of age and gender. Undoubtedly, you might be scared that your kid riding a 4-wheeler or ATV can be so much of a risk. You don't need to break a sweat. This article will equip you with a well-researched list of the Best Kids' 4-wheelers and ATVs in 2023. Let's ride!!!
Factors to Consider in Buying  Kids' 4-Wheelers and ATVs in 2023?
SAFETY
The safety of a child is paramount to every parent. I am certain you don't want to get something that will hurt your kid in the long run. Make sure you check for ATVs for the latest safety gadgets.
AGE OF YOUR KID
As Much as you want to make your kid happy by getting a four-wheel or ATV, a good question to ask yourself is, is the age of my kid appropriate to ride? ATVs and four-wheelers are specifically built for different kinds of ages, so you should pick the one that best fits your kid.
ENGINE CAPACITY
The engine's size and power output will determine the vehicle's performance. While some kids' four-wheelers are battery-operated, others are fuel-powered. When purchasing an ATV for your kid, it's critical to understand the distinctions between the two.
DURABILITY
How durable is the ATV of your choice? This should be a resounding question whenever you want to make a pick for ATVs for your kid. You need an ATV that's quality components and more durable materials because kids tend to be more careless with their pieces of stuff.
5 Best Kid's 4-Wheelers and ATVs in 2023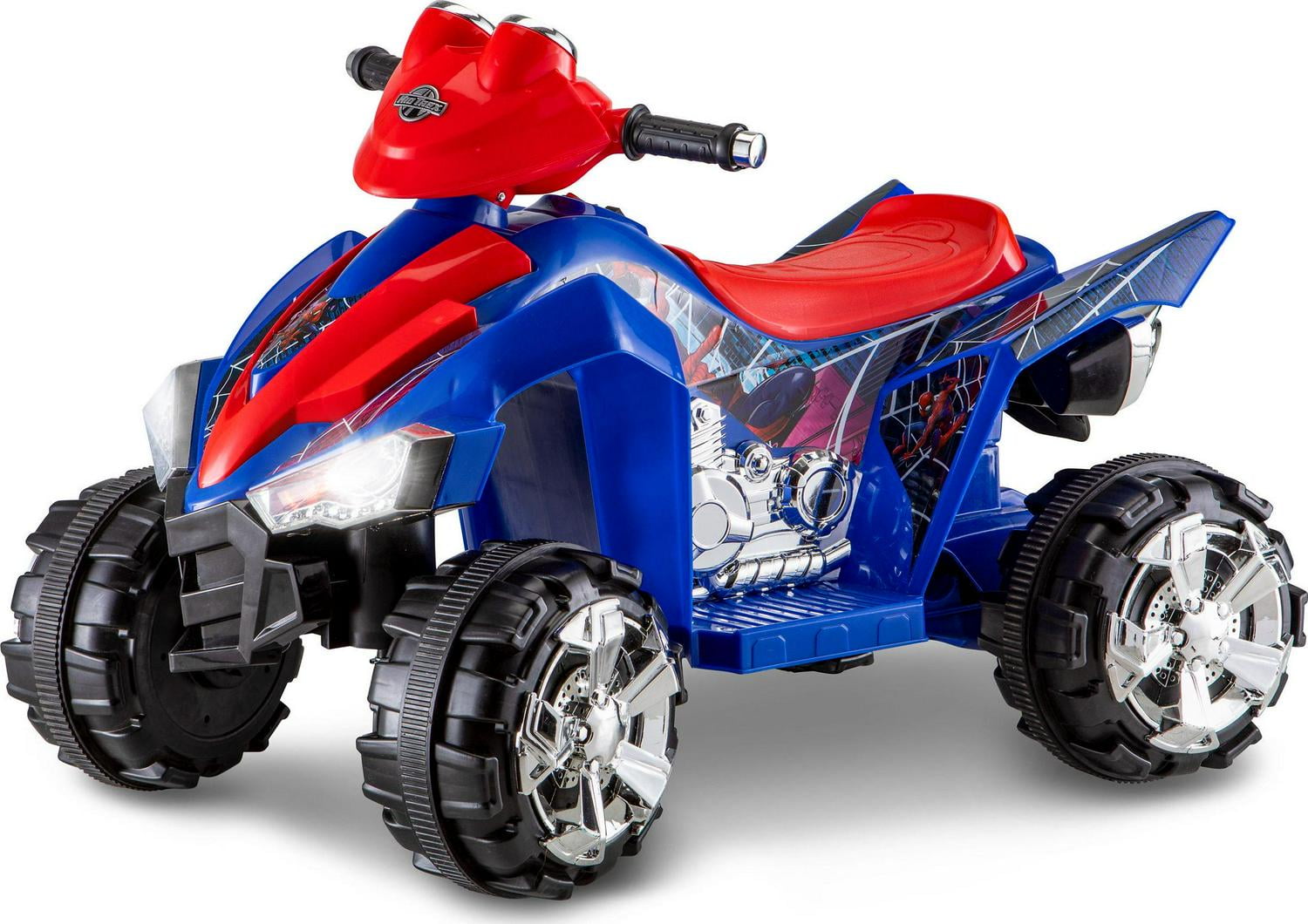 Hey!!! Which kid won't like to ride on the Kid Trax Spiderman  Atv? Spiderman is always the good guy, right? Its Spiderman hero look and feel makes it appealing to kids.
The KID TRAX SPIDERMAN ATV is best-suitable for kids between the age of 3-7 years. It can support a maximum weight of 88 pounds.
The Kid Trax Spiderman Atv is built to last due to its rugged features, such as its steel-made frames and long-lasting batteries.
The Kid Trax Spiderman  Power Trax has rubber traction strip tires and real foot pedal acceleration creating a lifelike driving experience for your kid and a max speed of 5 mph with a reverse function.
Although it has a small weight limit and it can be hard to assemble regardless. The Kid Trax Spiderman Atv has been topping the chart as one of the best ATVs for kids for over 15 years. Its remarkable feat is attributed to its impressive designs, which make it a go for kids.
The TrailMaster N110 Kids is rated among the Best Kids 4-Wheelers and ATVs in 2023. It is known for its powerful engine. The Trailmaster N110 is built with a 125cc engine that supports its huge performance rate and speed. Based on users' reviews, the Trailmaster N110 kids give an exhilarating experience.
Trail Master N110 guarantees the safety of your kids by providing a blend of safety and comfort which includes front and rear hydraulic brakes for safety.
This wonder machine is built with a low 24-inch seat height to aid young kids to have a comfortable ride with confidence.
The Tao Tao brand has become a household name in the best ATVs, and you should consider the Tao Tao  ATV FORCE 110cc whenever you want to make a four-wheeler pick for your kid.
The Tao Tao is built with a fully automatic transmission and electric start which makes riding for your kid easy. This amazing feature also gives your kid full control of speed using the twist throttle.
The Tao Tao  ATV FORCE suspension is wider compared to the conventional kid's four-wheeler. Unlike other four-wheeler ATVs, it has 11 inches of rear suspension and 11.6 inches of front suspension.
Tao Tao ATV Force has bigger and more rugged tires enhancing its durability, leaving your kids with a better fit, steady ride and memorable experience. Its front tire is 19 x 7-8 while the rear tires are 18x 9.5-8 with a ground clearance of 6 inches.
The age bracket of kids that best fit TAO TAO ATV FORCE 110cc is a perfect fit for kids of age 10 and upwards.
The COSTZON Ride ON Atv is another easy-to-ride ATV for kids. It comes with a foot pedal and extendable seat to boost its comfort. Also, it's equipped with wear-resistant wheels, which makes it capable of moving in any kind of terrain.
Your kids can enjoy a long ride on the battery-operated electric and electric rechargeable constructed ATV. 
It has a display that notifies you to charge when low in power. It consists of varieties of music and stories that are intended to enliven your children and keep them from getting bored. However, you can add resources due to its USB slot functionality.
COSTZON Ride On ATV is a good recommendation for kids from age 3-6 years because of its 55 Lbs weight,  2 mph Max speed of 2mph and 12 Volt battery. COSTZON RIDE ON ATVs is classed as one of the most durable ATVs.
PEG PEREGO JOHN DEERE GROUND FORCE TRACTOR WITH TRAILER.
The Peg PEREGO John Deere Ground Force tractor with trailer is a copy from the famous American Actor John Deere Tractor. It comes with a specially designed adjustable seat for comfort and to fit the height of the kid. Peg PEREGO John Deere Ground Force tractor comes with a 112c battery capacity, a single-pedal brake and an accelerator to give your kid full control of his ride. Another amazing feature is its automatic brake application once the accelerator is released.
The ground-force track has an automatic brake that offers a good grip on dirt, grass, gravel, or tarmac. It has an extra large detachable stake-side for a co-rider. 
Conclusion
We have listed the best Kids' 4-Wheelers and ATVs in 2023. Hence, picking the best ATV for your kid shouldn't be a Herculean task. We wish your kids a fun-filled