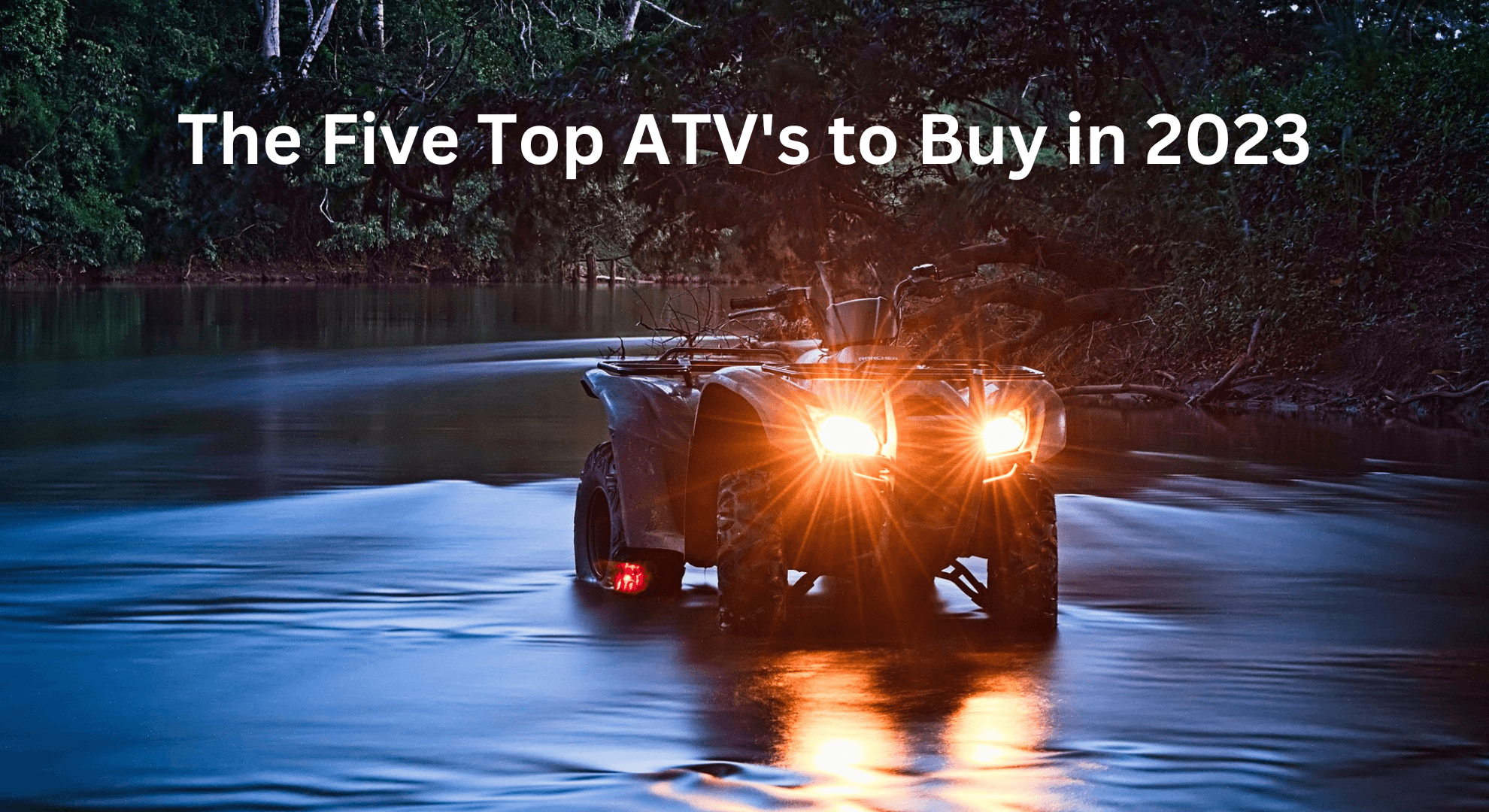 The Five Top ATV's to Buy in 2023 | XYZCTEM®
by: Clarie Lum -
In 2023, the ATV industry dished out exciting, improved and new models to stay relevant, give riders thrilling and unique machines with the latest technology features. However, choosing the best ATV might be challenging with many available options. That is why we've compiled a list of the top five ATVs to buy in 2023 with their characteristics and advantages. 
This list will assist you in making the correct choices on your future purchase, whether you are an experienced rider looking to upgrade or a newbie in the world of ATVs. Let's get started.
Factors to consider when buying an ATV
ATVs exist in a range of sizes and forms. And each one has specific benefits and disadvantages. So, when buying an ATV, there are several factors to consider, including the type, cost, suspension system, and engine size. Let's investigate them.
Type of ATV
ATVs can be divided into sport, utility, and side-by-side. Sports ATVs have features that include a lightweight frame and a strong engine intended for high-performance riding. Cool Right?
On the other hand, Utility ATVs are made for work chores, with features like a big load rack and towing capacity. It has impressive features, such as a roll cage and a separate cargo section. The side-by-side is commonly called UTV. They are larger and made for two or more passengers. However, selecting the ATV that suits your demands and provides accurate services is vital. 
Engine Size
When looking for the best ATVs in 2023, engine size is a crucial factor to consider. The amount of power an engine can generate is based on its cubic centimetre size. 
Larger engines are more powerful, expensive, consume fuel, and requires high maintenance. On the other hand, smaller engines offer less power and are fuel-efficient.
Suspension system
ATVs have two types of suspension systems; independent suspension and solid axle suspension. An ATV's suspension system absorbs impacts and ensures a comfortable ride across unpaved surfaces. Although independent suspension can be more expensive and require more maintenance, it offers a smoother ride and better handling. Simpler and more reliable. Solid axle suspension can be less comfortable and provide less traction. 
Cost
The type, size, and engine size, among many other factors, can affect and determine an ATV's price. As earlier stated, ATVs with independent suspension and larger motors are more expensive than utility ATVs, with sport and side-by-side models sometimes costing. Irrespective of the type, an ATV price ranges between
Top 5 ATVs to Buy in 2023
Now that you know the factors to consider before buying an ATV in 2023, we recommend the top five ATVs.
Nothing is better if you enjoy adventure and being outside than the rugged and adaptable Honda Rancher 4x4. Honda Rancher's strong engine and cutting-edge suspension technology make it an excellent fit for any terrain. The Honda Rancher 4x4 is the ideal travel partner for outdoor adventures, whether driving through the forest or negotiating rugged mountain paths.
The Honda Rancher 4x4's ATV is versatile, with robust engines that provide the torque and speed required to manoeuvre any obstacles. The ATV's independent suspension system ensures a smooth ride over rough terrain. With the Honda Rancher 4x4, you can quickly and confidently navigate muddy trails, rocky routes, and steep hills.
This ATV's components have all been designed for high performance. It includes a rack-mounted radiator, 78 horsepower, and 29.5-inch tires as standard equipment. The Honda Rancher 4x4 is one of the best ATVs of 2023, offering a perfect combination of power, performance, and comfort. 
The 2023 Can-Am Outlander 450 is another powerful and versatile ATV designed to ride on various terrains. The 2023 Can-Am Outlander 450 is ideal for utility and sport because of its impressive 1,300-pound towing capability and 38 horsepower engine.
With its adjustable and comfortable suspension system, the Can-Am Outlander 450 offers a comfortable ride even over rough terrain. It has impressive performance capabilities and cutting-edge safety and convenience features, including a digital display screen and LED lighting. It has a sleek and contemporary style making it perfect for riders who seek attention.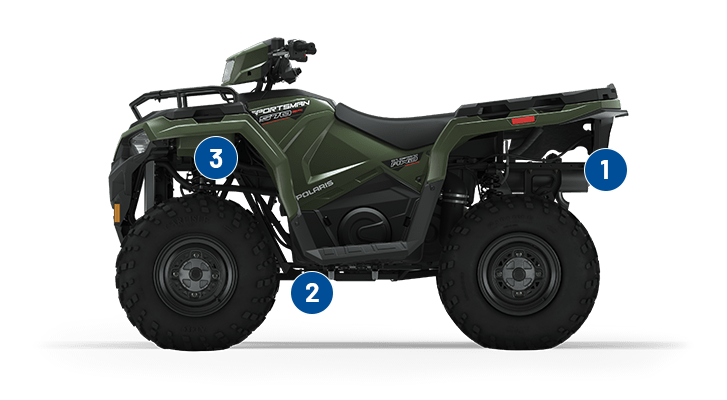 The next best ATV you should consider purchasing in 2023 is the Polaris Sportsman 570. It is a robust and adaptable ATV designed for exploration. Its 567cc engine provides a responsive and comfortable ride while navigating rough terrain or meandering along pleasant routes. It has an On-Demand All-Wheel Drive technology offers outstanding traction, making navigation across obstacles easy.
The Polaris Sportsman 570 is an ATV that riders depend on throughout the automobile industry because of its powerful punch. This machine is designed to perform complex tasks, including tedious farmwork easily.
With its 11.5 inches of ground clearance and 9.5 inches of suspension travel, this ATV makes it simple to ride across rugged terrain without becoming stuck.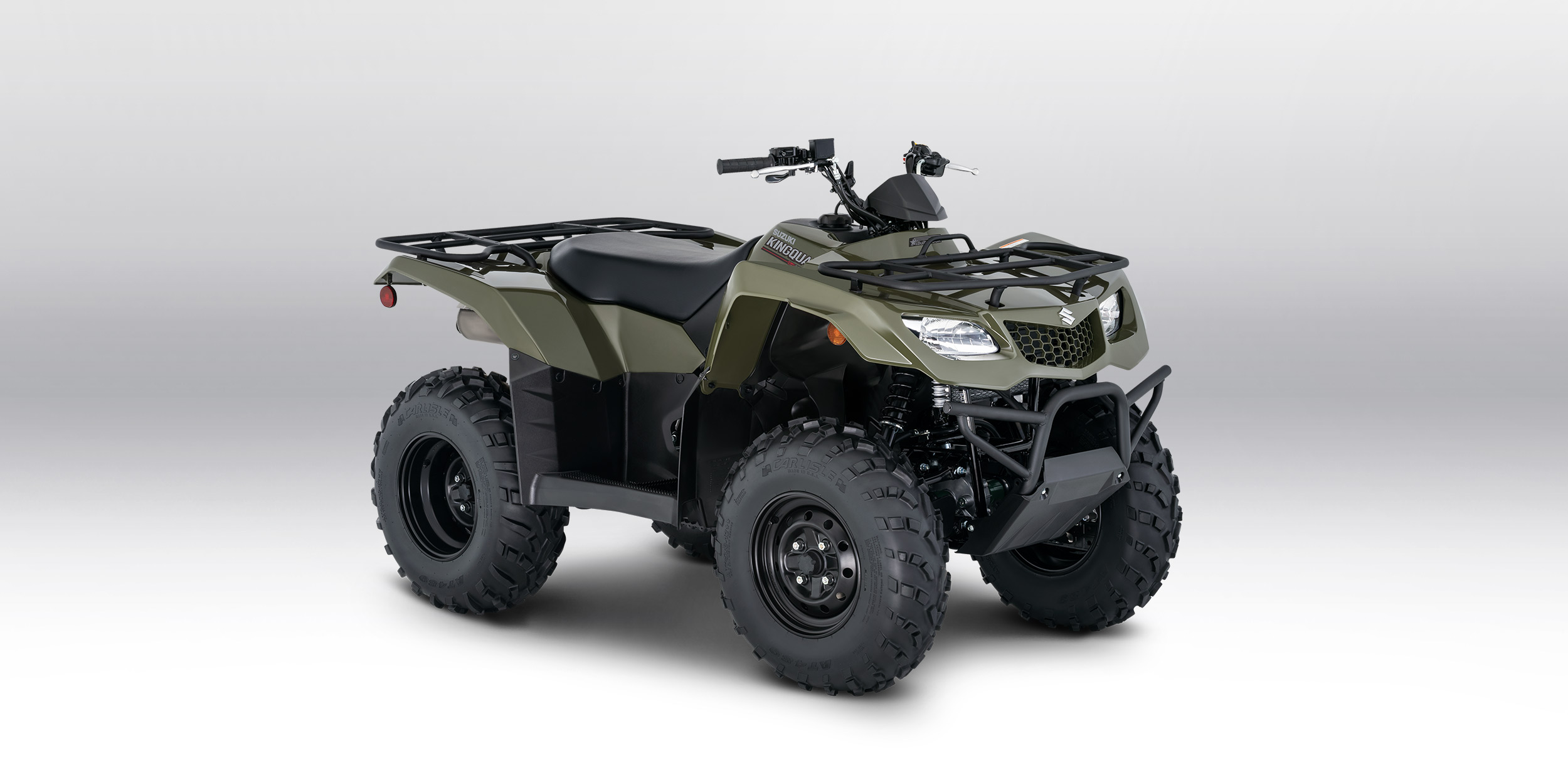 For many years, ATV lovers have been opting for the Suzuki KingQuad, and the 2023 KingQuad 400FSi is no exception. The 2023 Suzuki KingQuad 400FSi ATV is an excellent choice for experienced and beginner riders. It has a potent engine, reliable suspension, and some user-friendly features. 
The KingQuad 400FSi offers a comfortable ride with its independent suspension system and ergonomic design. Its fuel-injected engine provides quick acceleration and excellent fuel efficiency. Whether you're looking for a workhorse for the farm or a fun ride on the trails, the 2023 Suzuki KingQuad 400FSi is worth considering.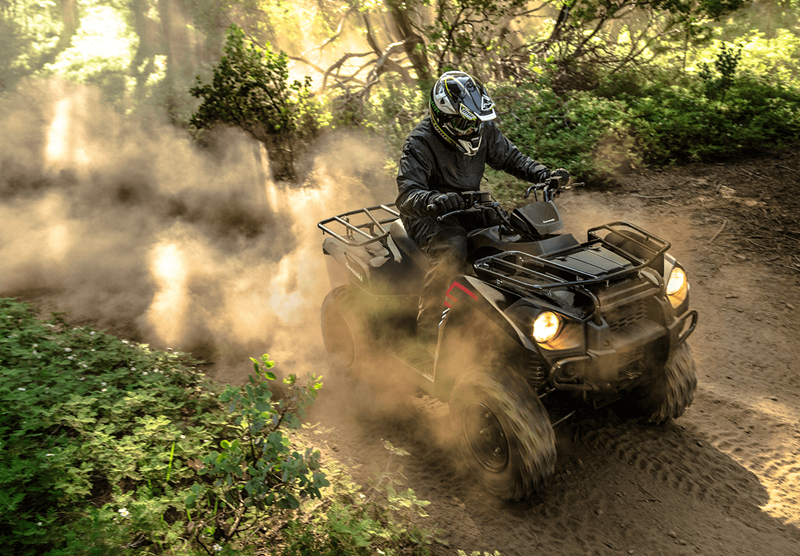 The Kawasaki Brute Force 300 is a powerful ATV designed for riders who want a reliable machine that can handle rugged terrains and challenging conditions. With its sturdy construction and advanced features, the Brute Force 300 is a top choice for off-road enthusiasts looking for an ATV that can provide them with the power, agility, and durability they need to tackle any adventure.
It has a smaller engine than the other models on this list. It has a 271cc engine with 15.9 lb-ft of torque. However, the horsepower measurement is yet to be disclosed by the brand. 
Whether you're a rookie or an expert, the Brute Force 300 is an excellent choice for anyone looking for a high-performance ATV that can provide unrivaled performance and comfort on every ride. 
Conclusion
The ATV market in 2023 is filled with many great options for buyers. We've highlighted five top ATV models in this article. Each ATV has its unique features and benefits. However, choosing the best one for you ultimately depends on your needs and preferences. 
Considering factors such as engine size, suspension system, and price, you can make the best decision and find an ATV that will provide years of enjoyment and utility.