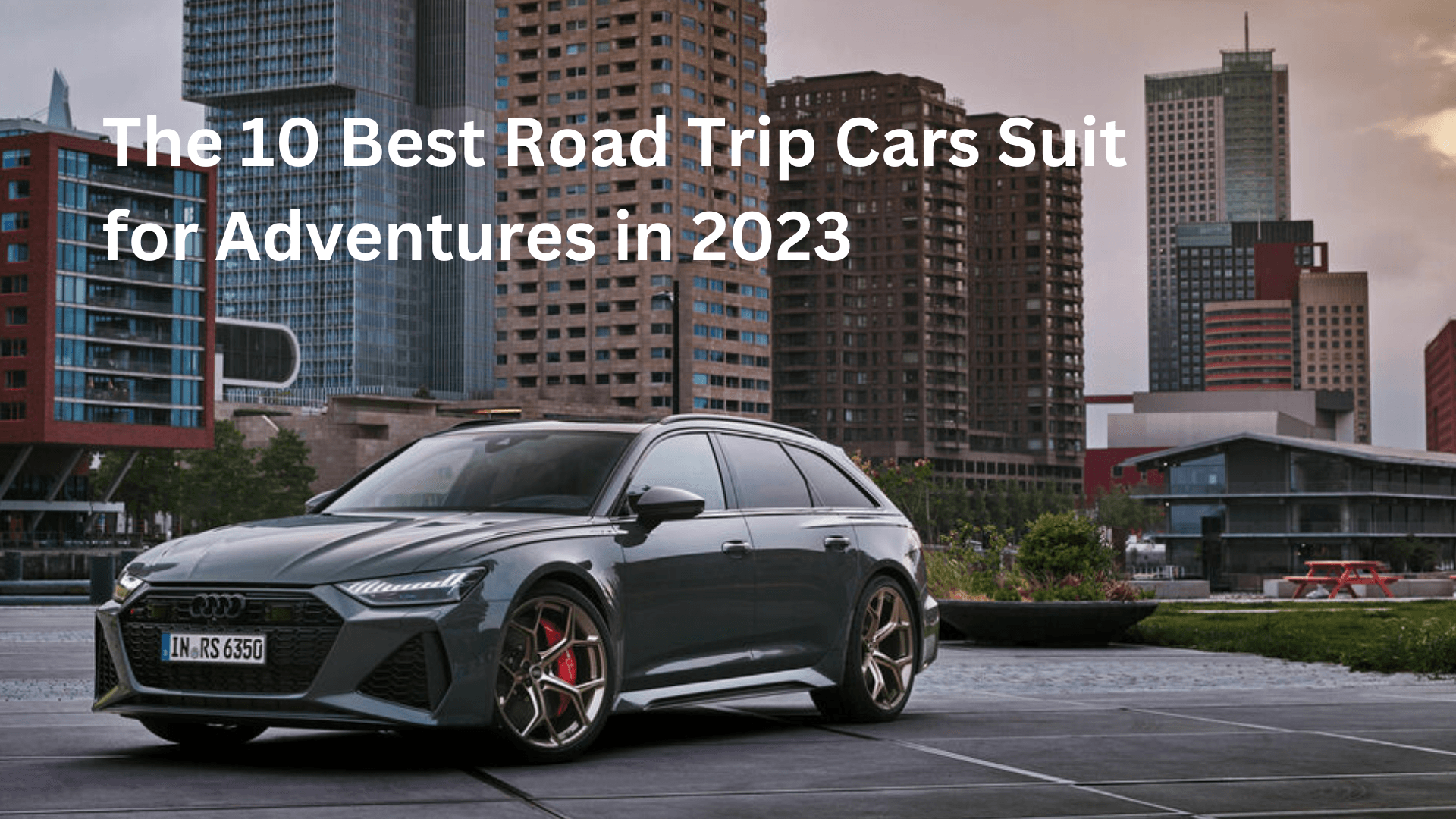 The 10 Best Road Trip Cars Suit for Adventures in 2023 | XYZCTEM®
by: Clarie Lum -
While you could get to your destination faster on an aircraft, you can also enjoy an adventurous road trip arriving at your destination in the twinkling of an eye with the right choice of car. Although, this may require your car to have superb and outstanding features, unlike other random cars.
Therefore, you may have to consider many factors to find the best car fit for a road trip. 
Factors to Consider in a Car for a Road Trip
Comfort: Because you would be spending substantial hours on a road trip, you should carefully look out for a car that will provide comfort in car seats, its level of functionality, and whether they offer heating, cooling or massage functions. 
Driving Rank: There is no dispute that you can find gas stations littered all over major highway networks worldwide. Yet, having to pull over every other hour for a refill can be very inconvenient, so you need to know the car's driving range you might be considering for a road trip.
If you are considering choosing an electric car, there is the utmost need to review an EV's range and the charging network available for the EV.
High-Class Technology: Now that we've agreed that a comfortable car is important for an adventurous road trip experience, having certain features like web browsers, moon/sunroofs, lane maintaining assistant, and adaptive cruise control could be the icing on the cake that adventurous road trip.
There are some other things you could check for when choosing a road trip car, but these points are non-negotiable.
Now that we've gotten that out of the way, let's check out the best road trip cars in 2023.
The 10 Best Road Trip Cars Suit for Adventures in 2023
Selecting the best car for a road trip is difficult. However, considering their features and models, we have carefully listed the ten best cars fit for a road trip. So tighten your seatbelt and ride with us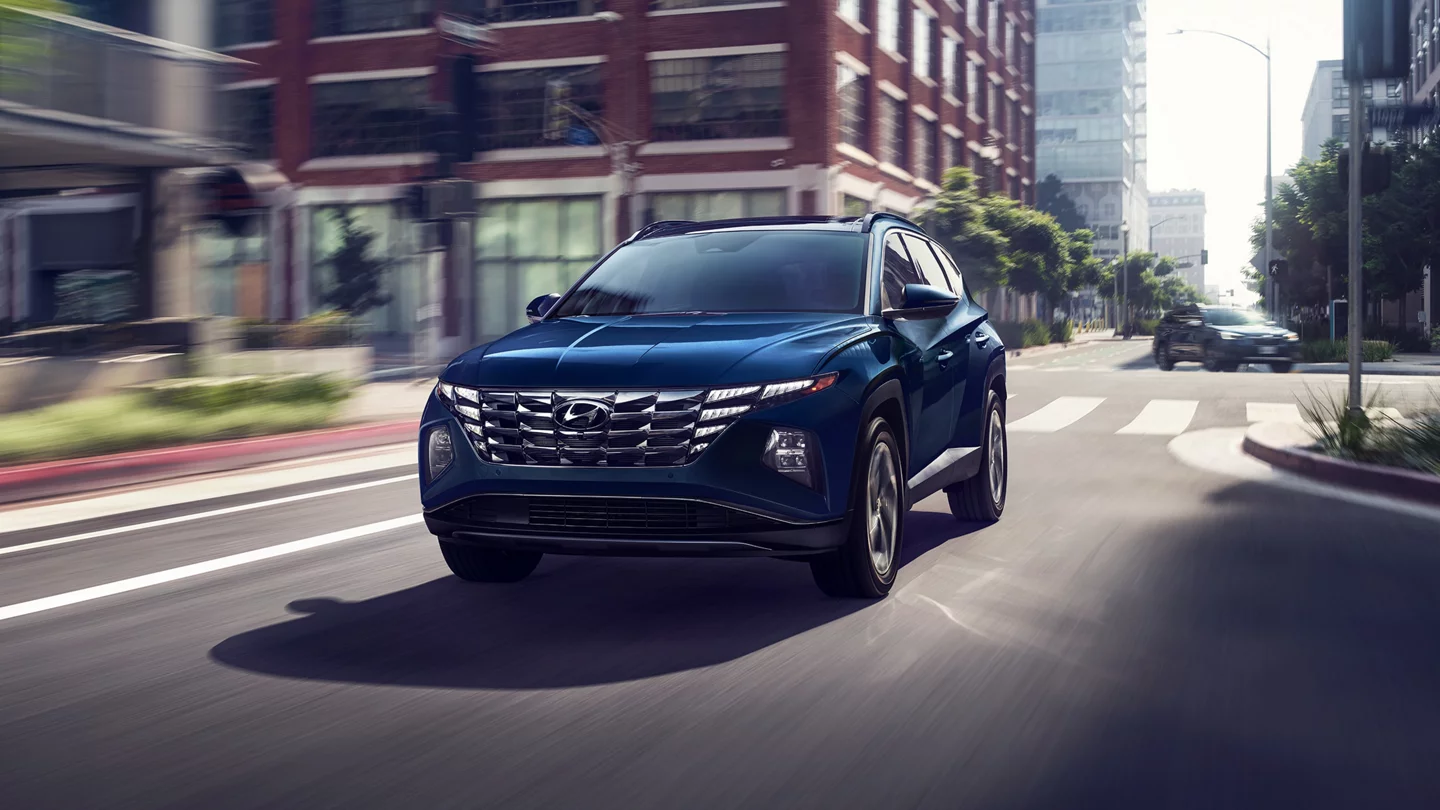 2023 Hyundai Tucson Hybrid
With about 38 mpg on the highway, the Hyundai Tucson Hybrid is one of the best for the best road trip experience. It has an 8-inch touch screen, wireless smartphone connectivity, four USB ports and wireless device charging. It is spacious enough to accommodate four passengers in the back seat with enough huge cargo space. 
Features and Specs
Power: 226-261 HP

Engine: 80 Electric/ 35-38 Gas

AWD

Seats -5

Purchase: $31,150+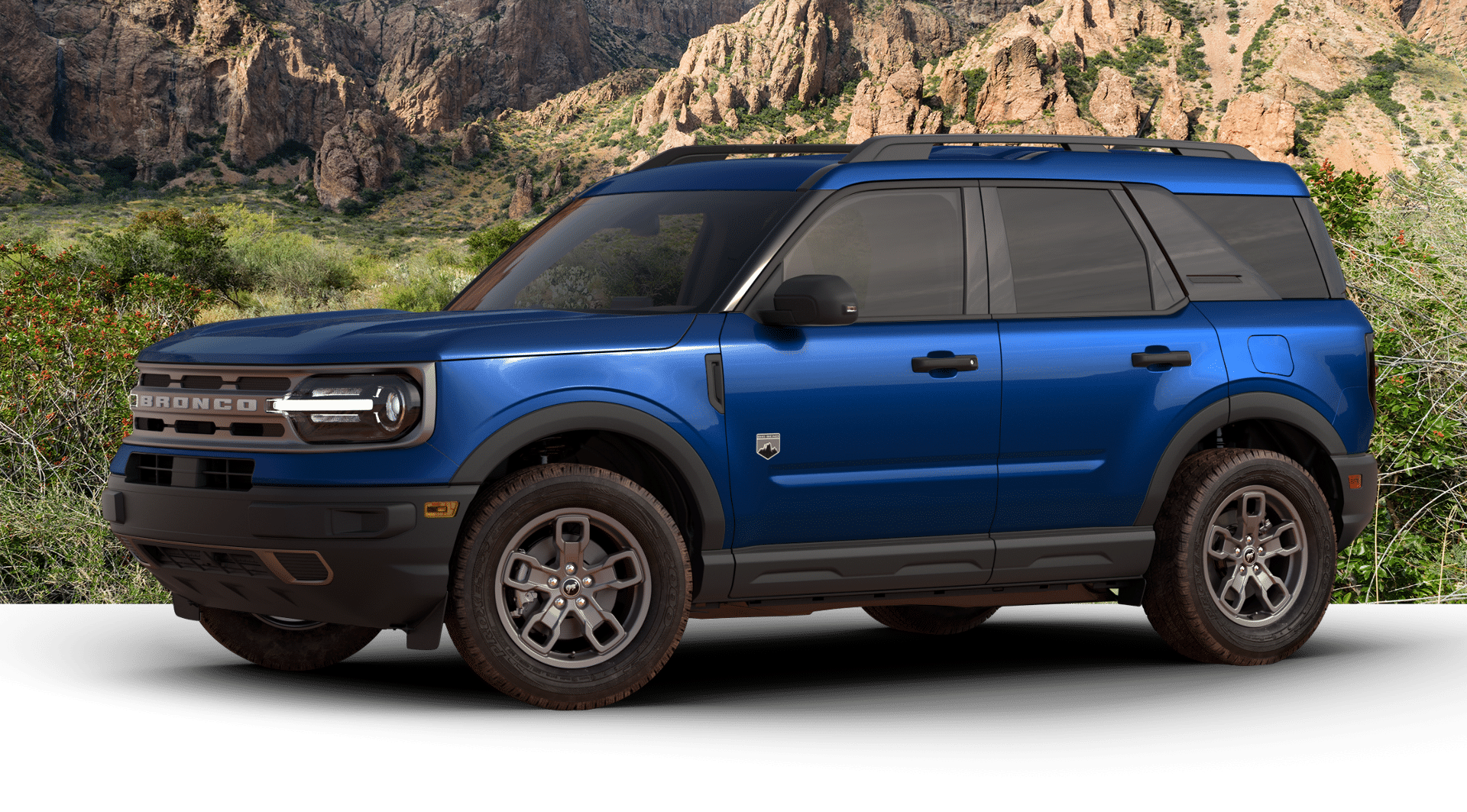 Ford Bronco Sport
Ford Bronco sport is a compact crossover SUV sports car featuring similar retro and off-road styling in a smaller footprint. Its compact body makes it easier to maneuver than the larger Bronco off-road. The latest Ford Bronco sport 2023 model offers vintage styling cues such as pastel exterior colors and white-painted trim pieces to give it a 1960s vibe.
Features and Specs
Engine: 1.5 L Ecoboost I3 turbo/ 2.0 Ecoboost I4 turbo

Power output: 181 hp / 245 hp

Seat: 5

Purchase: $27,215+
Range Rover Velar
The Range Rover Velar is an incredibly advanced SUV with amazing features such as a Meridian 3D surround sound system, Apple Carplay, Android auto connection, a 10" main touchscreen supplemented with a lower 10" touchscreen, a cabin air purification system, WiFi connectivity, access to streaming services and so much more. With these features, you're set to enjoy your road trip, regardless of the distance.
Features and Specs
Engine: 2.0L I4 / 3.0L S6

Power: 247HP & 269FT-LBs or 340HP & 354FT-LBs

Seats: 5

Purchase: $58,300+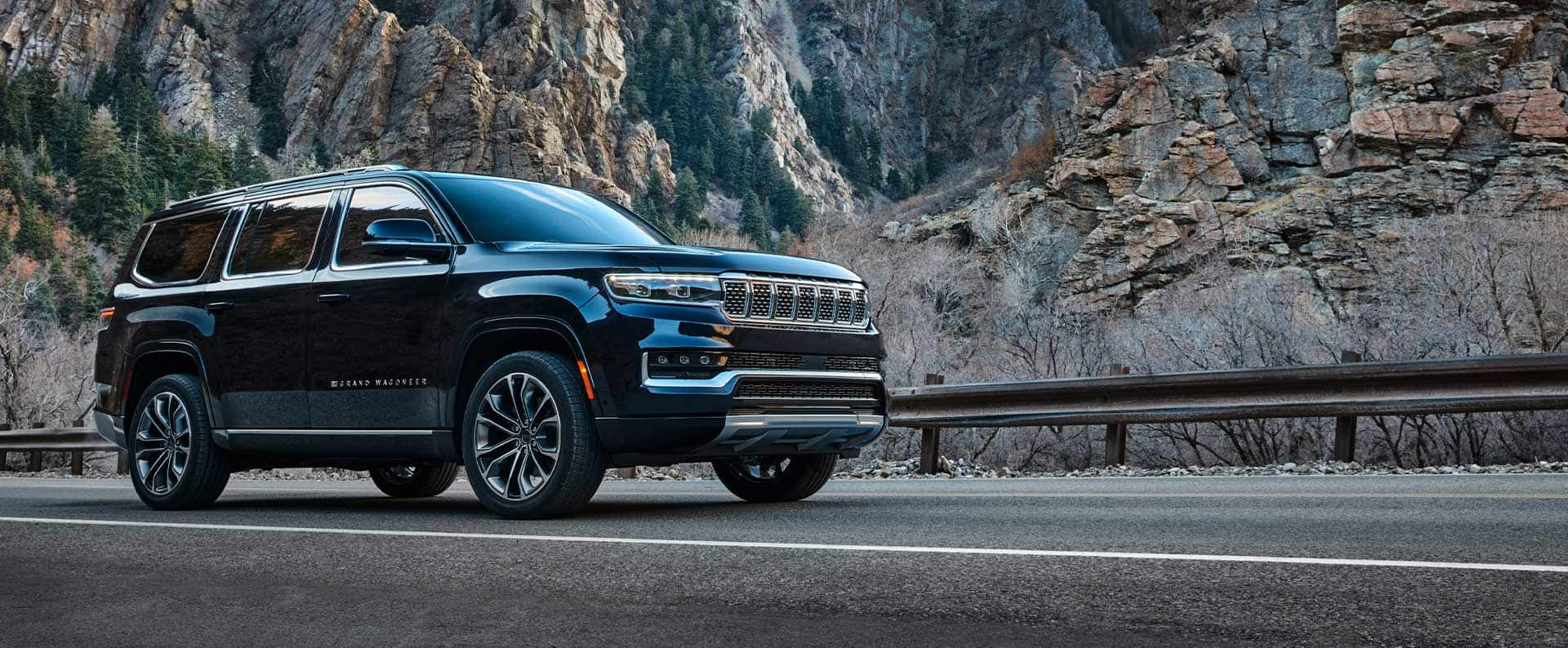 Jeep Grand Wagoneer
Grand Wagoneer is the first SUV built by Jeep. It is big and luxurious, with three seats for up to eight passengers. The Wagoneer comes with a 420-HP twin-turbocharged 3.0-litre inline-six engine. It has an adjustable air suspension that can raise the Wagoneer to provide an additional 3.6" off-ground clearance and a drive mood selector system which includes snow, rock, sand/mud modes.
Features and specs
Engine: 6.4L V8

Power: 470 HP & 455FT-LBs

Seats: 7

Purchase: $88,640+
Volvo XC60
Volvo XC60 Recharge is a wildly advanced vehicle and a plug-in hybrid version of Volvo's mid-sized SUV. It has an optional Bowers & Wilkins sound system, a built-in google assistant, and an onboard air filter.
Features and Specs
Engine: Turbocharged 2.0L Hybrid Inline-4

Power: 455 HP & 523FT-LBs

Seats: 5

Purchase: $54,250+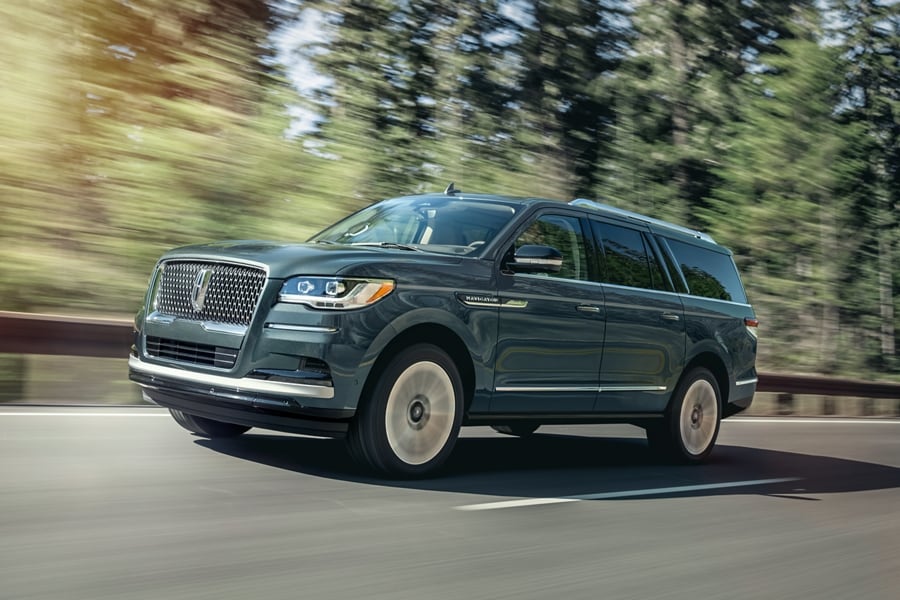 Lincoln Navigator
Wherever your road trip takes you, the 2023 Lincoln Navigator will ensure you arrive comfortably. It is one of the best-built large luxury SUVs with a high-quality interior. Some standard features to help you on your road trip include a 13.2" touchscreen, smartphone connectivity, WiFi hotspot and Five USB ports.
Features and Specs
Engine: Twin-turbocharged 3.5L V6

Power: 440 HP & 510 

Seat: 7

Purchase: $77,635+
Alfa Romeo Stelvio Quadrifoglio
The Stelvio is another incredibly luxurious European SUV offering ample comfort and more impressive features and functionality. Apart from being extremely good for road trips, it is also good for sub-4-second 0-60mph runs. It packs a 510-HP bi-turbo V6, a carbon fibre driveshaft, a 5-person seat space, and a nearly 400-mile range.
Features and Specs
Engine: Twin-Turbocharged 2.9L V6

Power: 510 HP & 443 FT-LBs

Seat: 5

Purchase: $84,650+
Audi RS 6 Avant
Are you yet to find your choice of a road trip car? Check out the Audi RS 6 Avant. It is an ultra-high-performance multi-purpose vehicle suitable for a road trip. The incredible Audi model comes adorned in a slammed stance with a full aero kit, close to 60 cubic feet of cargo space, and a carbon trim package.
Features and Specs:
Engine: Twin-Turbocharged 4.0L V8

Power: 592HP & 590FT-LBs

Range: 425 Miles

Seat: 5

Cargo space: 59.3 Cubic Feet

Purchase: $116,500+
BMW Alpina B8 XDrive Gran Coupe
To an average observer, BMW ALPINA B8 is another 8-series model. Others who are well informed recognize the ultra-top-shelf exotics offered by famed tuning outfit ALPINA. BMW ALPINA B8 is another incredible road trip car with 21 inches ALPINA wheels, ALPINA 4-wheel ventilated disc brakes, an aerodynamic kit, a Sport suspension package, a Lavalina leather steering wheel and lots more. 
Features and Specs
Engine: Twin-Turbocharged 4.4L V8

Power: 612 HP & 590 FT-LBs

Seat: 5

Range: 432 Miles

Cargo Space: 15.5 Cubic Feet.

Purchase: $139, 900+
Rolls-Royce Wraith
Though only the affluent can ever get to enjoy the incredibleness of this road trip car, Rolls-Royce Wraith is, without doubt, the finest road trip-ready grand tourer that offers a blend of comfort and performance that is second to none. 
With a 4-person seating space, Roll-Royce Wraith features a nearly 400-mile range and a massive twin-turbocharged 6.6 litre V12 engine with a cool 624HP. Rolls-Royce also produces an exclusive black badge version of the Wraith for the world's most discerning customers.
Features and Specs
Range: 394.5 Miles

Cargo Space: 13 Cubic Feet

Purchase: $330,000+
Conclusion
There you have it. Now that your road trip car has been sorted, you should get your bags ready with essential items for an adventurous road trip experience. ENJOY YOUR RIDE!