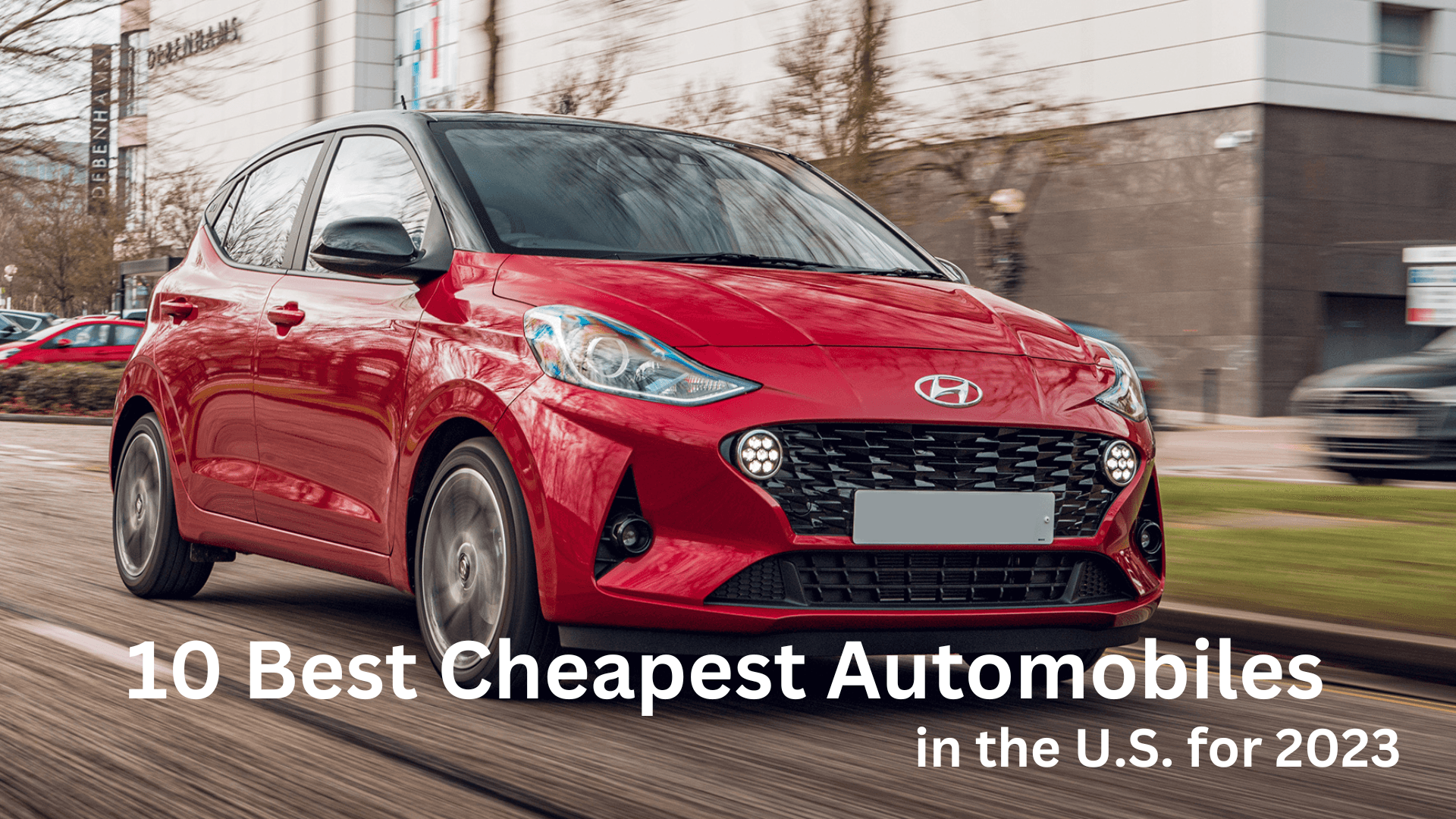 10 Best Cheapest Automobiles in the U.S. for 2023 | XYZCTEM®
by: Clarie Lum -
Owning a car is impossible, especially when working with a tight budget. But guess what? You don't have to wait until you become the wealthiest man on earth before you can purchase or give yourself a new car.
However, if you are financially buoyant, getting a luxurious car is a good idea; if not, go for a pocket-friendly vehicle. The fact remains that they serve the same purpose but with a little functional difference.
This article contains carefully curated options from some manufacturers combined with different features that would help you decide what car to purchase on a budget. While deciding on what type of car to purchase, it is also essential to protect your vehicle to save you from extra expenses on repair.
Purchasing high-quality car covers are an excellent option to protect your car against scratches, sunlight exposure, and every other thing that can cause damage to your vehicle. So, ride with me as I list the cheapest cars, SUVs, and trucks in the U.S. 
10 cheapest cars, SUVs, and trucks in the U.S. in 2023.
Kia Soul
The Kia Soul doesn't look or feel cheap, as its interior and exterior give it a premium and exclusive look. It is one of the most affordable cars, a subcompact SUV, and technically a light truck with sufficient room for up to five people.
The fantastic technology and safety features in the Kia Soul provide a secure and enjoyable driving experience. Compared to other manufacturers, its fuel efficiency is good enough.
It has two engines that produce 147 Horsepower and is exclusively front-wheel drive. If this is your choice, ensure to purchase a high-quality truck car cover to protect against scratches and color fades resulting from exposure.
Nissan Sentra
The Nissan Sentra has standard equipment, safety features, and an attractive interior and bodywork, giving it a modern look. It also has supportive and lovely front and rear seats that can comfortably accommodate four people and a slightly wide trunk.
Without a wireless phone charging feature, the Apple CarPlay, Android Auto, Bluetooth audio, and other similar features make up for this. Its sound system makes it the perfect car for audiophiles.
It has a 2 liter 4 cylinder engine that produces 149 horsepower. If this option suits you, a sedan car cover will protect your Nissan Sentra from foreign and harmful elements.
Subaru Impreza
Subaru Impreza is an excellent compact car available as a sedan and a hatchback. One of the differences between these two is that the sedan is $500 cheaper than the hatchback. Its interior is spacious for tall people and those with long legs.
While the hatchback is simple, affordable, and dependable, the sedan is refined and classy, with a sleek and sporty exterior. However, it has a smaller trunk.
The Subaru Impreza has driver-assistance technology including active safety systems and an all-wheel drive system that keeps your mind at rest during every drive.

Despite being termed an economy car, Kia Forte has an impressive interior and overall comfort level. It is suitable for long trips due to its comfortable seats and generous room in its cabin.
Regarding the standard car assistance systems, the Kia Forte ranks among the best providing active and passive safety features. It has a 2-liter engine produces 147 horsepower and competitive fuel efficiency for its class.
Hyundai Venue
The Hyundai Venue is a compact SUV and the cheapest in the U.S. It has a rugged look and a unique body shape with enough space for tall people with long legs. It has limited space in the trunk for cargo.
It is equipped with an easy-to-use infotainment system that has great touch responsiveness. It also comprises dual USB charging ports and six speakers. 
It has a 1.6-liter engine that produces 121 horsepower. Regarding fuel efficiency, it could be better in its class, but it should do the job just fine.
Kia Rio 5-Door
The Kia Rio 5-door is one of the cheapest cars. It has limited cargo and rear seat space but adequate spacing in the front.
It is equipped with fundamental features such as infotainment and connectivity options and several driver assistance technologies.
The Kia Rio is powered by a 1.6-liter engine that produces 120 horsepower, and Its fuel efficiency is impressive.
Mitsubishi Mirage G4
Mitsubishi Mirage G4 is another affordable, fuel-efficient subcompact sedan with smartphone wiring options and an automatic call climate control system. It has a four-speaker audio system accompanied by an H.D. radio with a front USB port, auxiliary audio input Jack, and the standard sound system.
Although, The Mitsubishi Mirage G4 is inadequately powered by a 1.2 L three-cylinder engine that produces only 76 horsepower. However, it is still cost-effective and has a lengthy warranty.
Kia Rio

The Kia Rio is a comfortable subcompact car with excellent fuel economy that offers quality and value at a low price. Irrespective of its small size, Kia Rio is relatively roomy inside and has a good amount of cargo space.
It has a great infotainment system and an 8.0-inch touchscreen that offers the latest wireless smartphone-mirroring options for both Apple and Android phones. The engine and efficiency are similar to the Kia Rio 5 door.
Mitsubishi Mirage
Mitsubishi Mirage is the most affordable hatchback in the country. It has a pleasant car interior with enough cargo space. It is enhanced with bluetooth connectivity, a four-speaker audio system, an infotainment and connectivity feature, and all standard features found in Mitsubishis. It is a straightforward car with a ten-year warranty.
Nissan Versa
The Nissan Versa ranks as the cheapest car in the U.S. It has enough legroom in the front seat. It is a budget-friendly compact Sedan that offers driver assistance technology and standard safety features like emergency braking that produce an enjoyable and safe experience on the road. It has a 1.6-liter 4-cylinder engine that produces 122 horsepower, with an impressive fuel efficiency level.
Conclusion
The above-listed cars might have some of the features you want, but they have the necessary components for a smooth driving experience. So, consider the cars listed above if you want a pocket-friendly vehicle with the essential features.