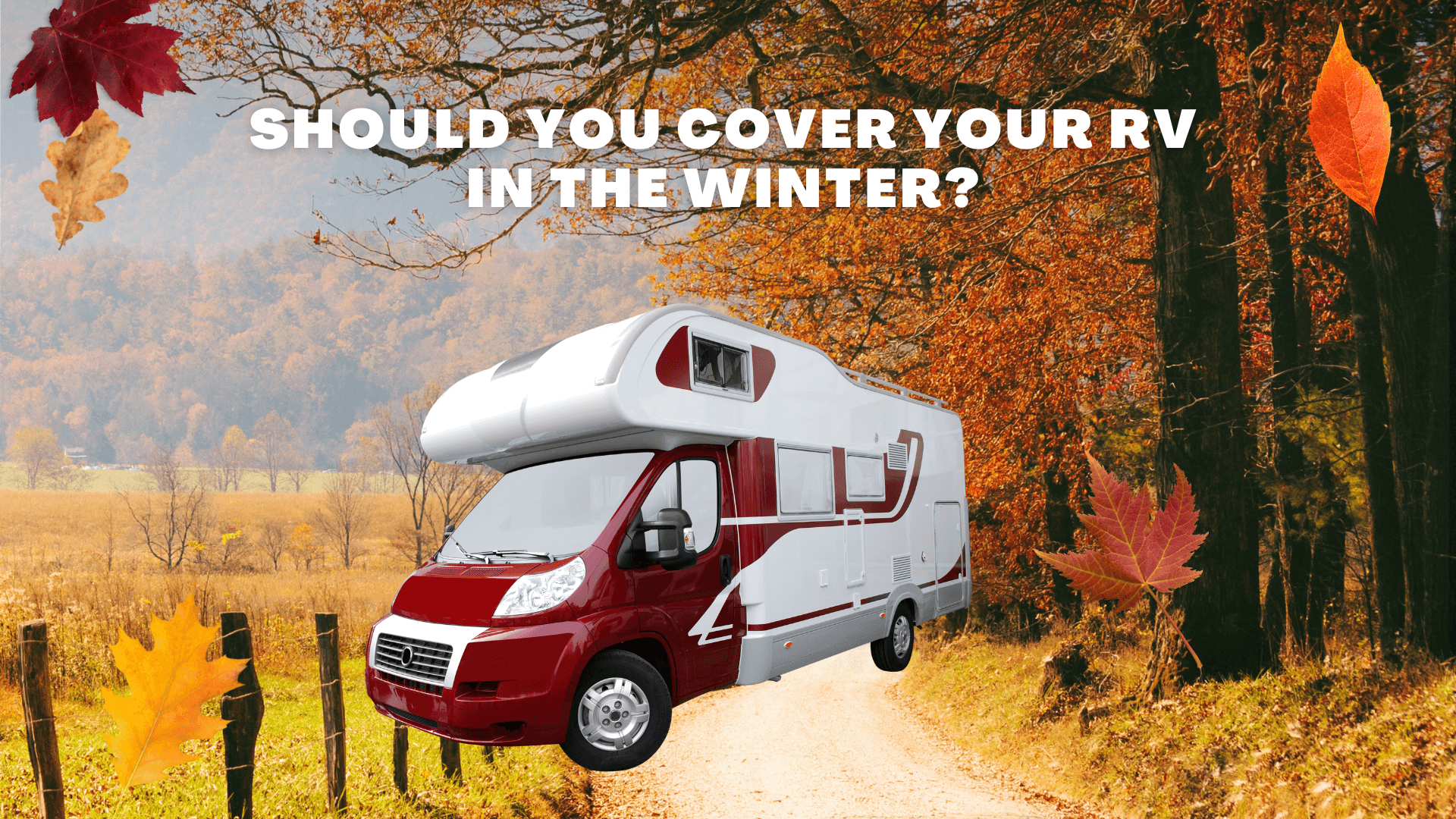 Should You Cover Your RV in the Winter? | XYZCTEM®
by: Clarie Lum -
When the foliage begins to fall, water freezes at 32 degrees, and snow begins to form hills, RV covers become indispensable. Every recreational vehicle (RV) owner must protect their vehicles against harsh weather to save costs and avoid damage.
It's one thing to be prepared for winter, and it's another thing to be prepared to protect your RV. If you fall among those that don't have a large space or garage to keep their RV or aren't financially buoyant to rent a space, then you should be prepared for both the weather and how to protect your RV from weather-related damage.
One amazing way to protect your RV is to purchase and use RV covers. So, the question you should cover your RV in the winter is getting a Yes!!! However, this article will provide insight into why you should cover your RV in the winter. But before that, let's briefly understand what recreational vehicles (RV) are.
What are Recreational Vehicles
Recreational vehicles are lorries, motors, or vehicles designed for accommodation, including living quarters such as bathrooms, kitchens, and beds. They are mostly suitable for camping, road trips, and traveling. It has its motive power; it is mounted on or propelled by another vehicle, such as travel trailers, fifth wheel trailers, camping trailers, motor homes, or truck campers.
Why You Should Cover Your RV in Winter
As earlier stated, using RV covers in winter primarily helps RV owners prevent weather damage from snow, water, ice, wind, and many more. However, it is advisable to cover your RV with an ultraviolet waterproof protective cover, irrespective of the weather. So, perhaps you just purchased an RV, and you want to get the value of your purchase; getting RV covers is a necessity to:
Keep Your RV Neat and Maintain the Value
Maintaining your RV's color, neatness, and value gets easy and less expensive with RV covers. RV covers help safeguard your RV from dirt, snow, wind, and general wear and tear. It will help you spend less on spraying or fixing rust and dent.
Protect Your RV from UV Radiation
Too much UV radiation on your RV leaves negative effects on your RV. You tend to experience cracks on your window or roof seals, and this causes the color to fade. Although, UV radiation might be less of an issue during winter because of the low sun angle and increased cloud cover. However, this is different in the Southern States, which experience more sunshine and milder winters.
Prevent High Cost of Maintenance
High costs in this context could be paying for a garage or space to store your RV and spending so much on fixing it in case there is damage. However, buying a cover is cheaper and will save you from spending on repairs and lengthen the lifespan of your RV.
However, the above three points have provided reasons why you should cover Rv with a cover. It also offers advantages or pros of using a cover for your RV. Therefore, let's check out the cons.
Cons of Using an RV Cover
1.It can be stressful to put on and take off
2.Some covers are quite expensive
Types of RV Covers
There are several models of RV; this also applies to their types of cover. So, let's review the different types and their features.
Classic Accessories Overdrive PolyPRO3 RV Cover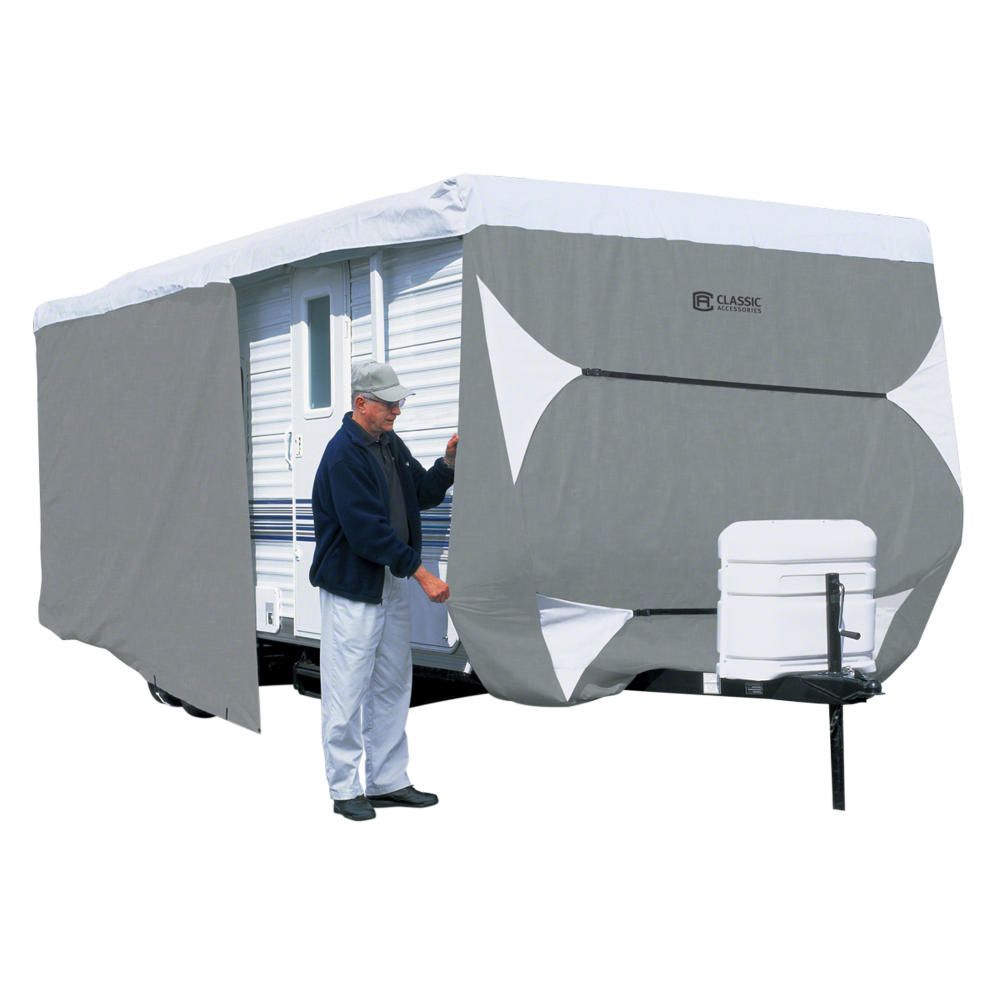 Classic accessories overdrive PolyPRO3 is compatible with travel trailers and toy haulers. It is a triple-layer PolyPROTM fabric made from two layers of polypropylene and a polyethylene film to protect your rig in all seasons. It covers the entire roof to protect your RV against heavy rain or snowfall. It has an air venting system and quick-drying sides to prevent mildew and mold.
Features
---It has elastic hem corners
---Contain an undercarriage strap system
---It has Front and rear tension panels
---Consist of zippered panels for easy access
---It has a weighted toss bag
---It has a storage bag or space
---Cost around $170
---It comes in nine sizes
XYZCTEM 300D Waterproof Breathable RV Cover
300D waterproof breathable RV cover is another perfect type for travel trailers. It is made of lightweight ripstop polyester fabric, which makes it the perfect option for warmer and sunny climates.
Features
---It cost around $230
---It is weatherproof and water-resistant
---It has a built-in ventilation system
---Consist of elastic hem with reinforced corners
---It is made up of straps and buckles at the bottom for wind security
---It has a front cross-strap panel. Also, rear and front tension panels to prevent wind lofting
---It is easy to use and install
ADCO Designer Series RV Cover
ADCO Designer Series RV Cover belongs to the class A RV covers. It is made of a DuPontTM Tyvek material, a non-woven fabric that can withstand the toughest conditions. Like the classic accessories overdrive PolyPRO3 RV cover, it protects your RV against mold and mildew. 
Features
---The present cost is about $500
---It has Straps and buckles at the bottom for wind security
---Consist of an adjustable strapping system
---It has zippered panels for easy access
---It comes in six different sizes
---It has a three-year warranty
King Bird RV Cover
Kingbird RV cover is a durable 4-ply fabric waterproof RV cover that protects your RV against rain, snow, UV damage, and other climate elements. It comes in six different sizes, a perfect fit for RVs between 18 and 33 feet.
Features
---It cost $219
---It has a high level of durability
---It is waterproof
---It comes with tire covers, zipper doors, and air vents.
---Reflective yellow stripes for night visibility. 
---Check out the xyzctem store if you are searching for the best and pocket-friendly RV covers. They have amazing offers for you.
Undoubtedly, RV covers are aimed at protecting your RV but can also initiate damage if not properly taken care of. Below are steps to follow to keep your RV covers in the shape
1.Keep in a dry place
2.Ensure it is clean and dry of water before use.
3.Ensure your cover is made of breathable materials
4.Get the right size to avoid some parts being left uncovered.
Conclusion
RVs are vehicles easily damaged by climate elements, especially in winter. However, this article has explained why you should get a cover and provided insight into the types of RV covers and features you should consider before purchasing one.