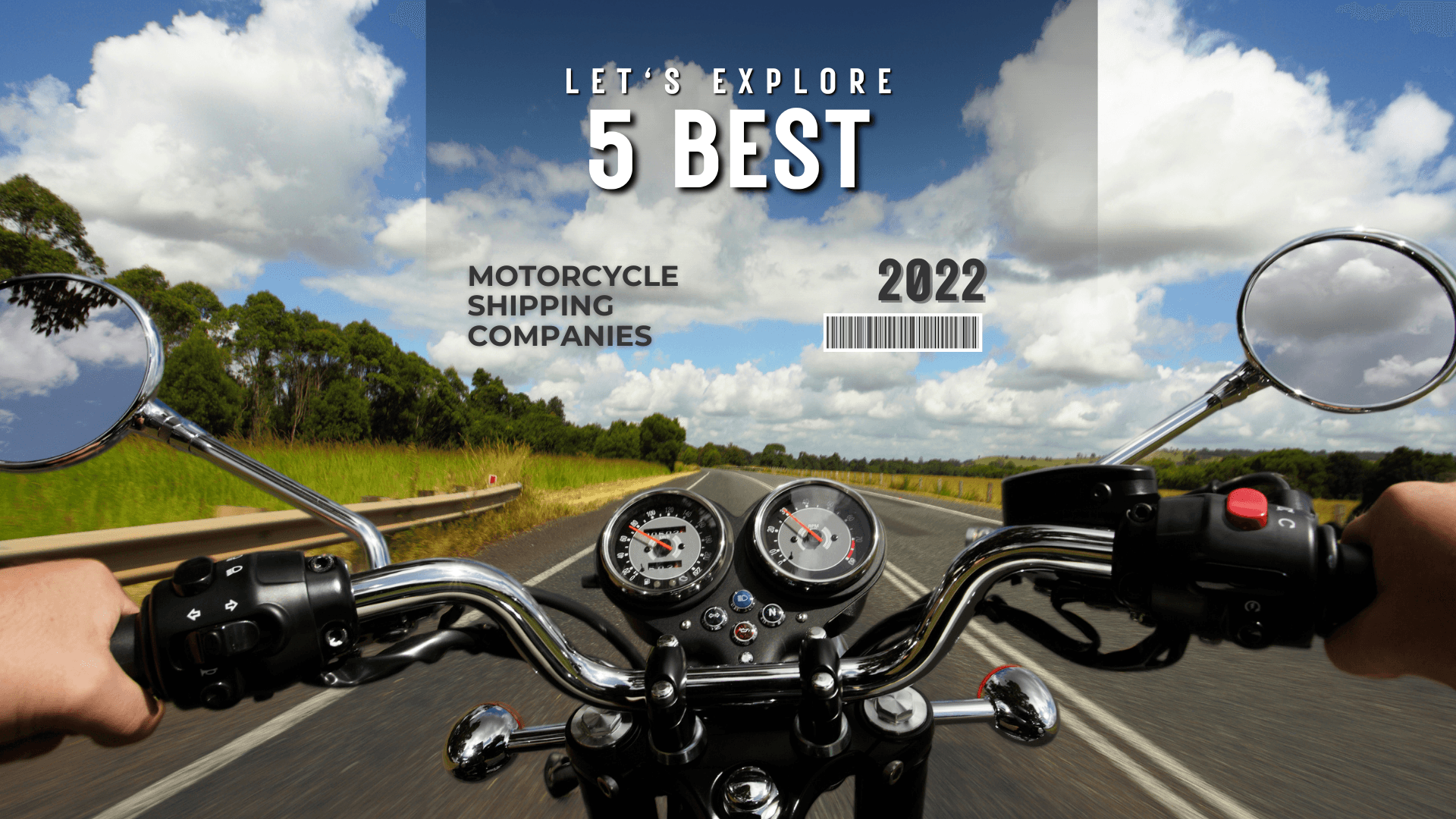 5 Best Motorcycle Shipping Companies in 2022 | XYZCTEM®
by: Clarie Lum -
Think of a situation where your motorcycle was not able to get the attention it needed because of its location. The only reason it wasn't able to get the attention it needed was because you couldn't get to it fast enough. What would have been so difficult about renting a U-Haul or getting an auto transport company? Well, in some cases, they are just as challenging as getting your motorcycle into the right hands. Finding reliable motorcycle shipping companies can be a hassle. There are a lot of motorcycle shipping companies out there, but it can be hard to find one that you can rely on. Shipping your motorcycle is a big decision, and you want to make sure that your bike will be well taken care of during transport. That is why we created this guide to help you find the best motorcycle shipping companies in 2022 that are sure to be there for you when you need.
What to Look for in a Motorcycle Shipping Company
One of the most common questions people have when they are looking to ship their motorcycle is "How much does motorcycle shipping cost?" The answer to this varies depending on a number of factors. The best motorcycle shipping companies are not always the ones with the cheapest rates. You should also consider:
- The company's experience in shipping motorcycles
- The company's reputation in the industry
- The company's customer service and feedback
- The ease of use
- Their reliability
You should also find out if the company offers door-to-door service or just delivery to a terminal where you will need to drive your bike from the terminal to your home or office. You should also make sure that they offer insurance with every shipment and that they are willing to work with you on any special requests, such as taking apart your bike and putting it back together again when it arrives at its destination.
Below are five of the best motorcycle shipping companies in 2022:
1.Roadrunner Motorcycle Transport: RoadrunnerAutoTransport.com is a motorcycle shipping company that provides affordable prices and quick delivery times. They have an A+ rating on BBB, and they also have a 5-star rating on Yelp.
2.All Pro Shipping: AllProShipping.com is another one of the best motorcycle shipping companies of 2022, and they are located in Southern California. They are one of the oldest motorcycle transport companies in North America and have over 40 years of experience in this industry.
3.American Van Lines: www.americanvanlines.com is a transportation company that specializes in moving motorcycles. If you are a motorcycle owner who needs to move your bike, American Van Lines may be able to help. This transportation company specializes in the moving of motorcycles, especially long-distance moves. If you are a motorcycle owner who needs to have your bike moved long distance, you may want to consider American Van Lines. American Van Lines has relocation services all over the country and can help you move your bike. American Van Lines may be able to help you if you need to move your motorcycle far away from your home. The company specializes in moving anything long distance, and since motorcycles are so heavy, they are one of the most common items that the company moves. If you need help moving your bike, call American Van Lines.
4.DHL Global Forwarding , Looking for a reliable and affordable shipping solution? DHL Global Forwarding is your answer. They provide comprehensive logistics solutions that are tailored to your specific needs. DHL is a leading international provider of air, ocean and ground transportation services. They are dedicated to providing their customers with the most efficient and reliable shipping solutions available.
5.Cycletrader.com is a website that connects motorcycle owners with private carriers and auto transportation companies. If you are a motorcycle owner and need to have your bike transported, CycleTrader.com is the site for you. This transportation site has a variety of motorcycle transport options for both long-distance and local moves. If you are a motorcycle owner who needs to have your bike transported, CycleTrader.com can connect you with private carriers in your area. The site has a large network of motorcycle transport services in all areas of the country, allowing you to find a carrier that is both close to your home and affordable. You can also post a motorcycle transport request on the site that allows other motorcycle owners to locate a transport company that will pick-up and transport your bike. 
Conclusion
Motorcycle shipping is a risky business, and it's important to choose a company that is experienced and licensed to transport motorcycles. The best way to find a company that can handle the job is to look for reviews and complaints posted online by previous customers. As long as you follow these steps, you should be able to find a motorcycle shipping company that will get your bike from point A to point B without a problem. And if you ever have any questions about your shipping experience, you can contact the company and ask for help. Motorcycle shipping is one of the most important things for a motorcycle owner. If you can't find a good company to ship your bike, it will be hard to enjoy your motorcycle.