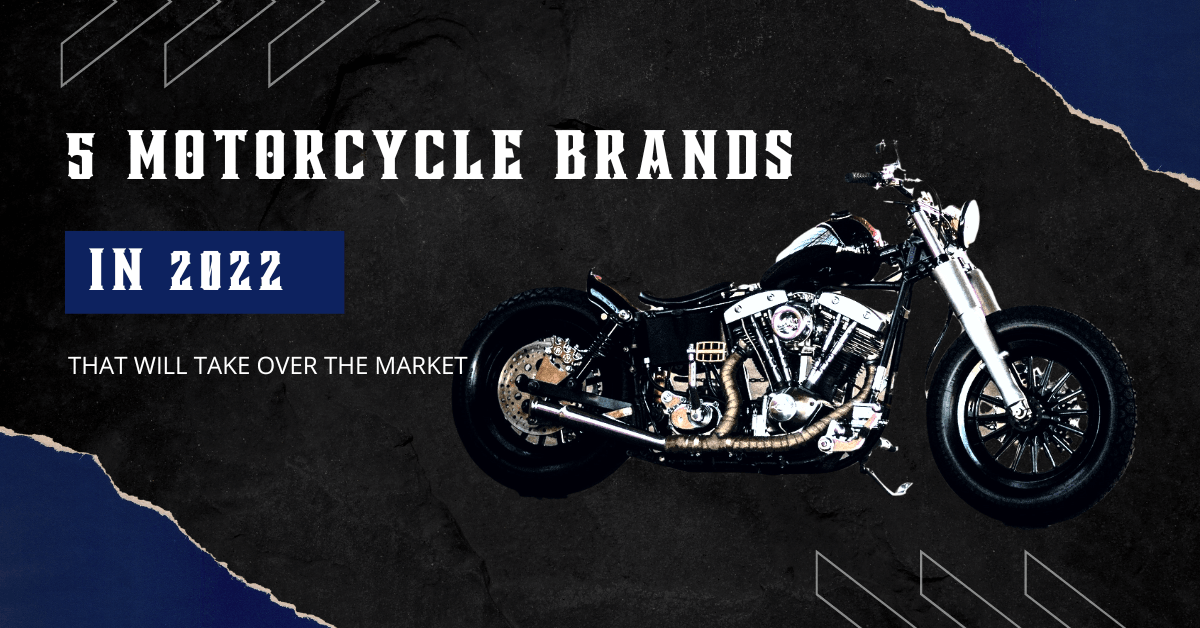 5 Motorcycle Brands That Will Take Over The Market In 2022 | XYZCTEM®
by: Clarie Lum -
It is no surprise that motorcycles are among the most popular modes of transportation on Earth. Since the beginning of the millennium, the number of motorcycles on the road has steadily increased, and new models appear every year to keep up with the demand.
There are indeed many factors that can affect the durability of a motorcycle, but there are some brands that can be trusted more than others.
The motorcycle market is overgrowing, and a few brands are expected to take over in 2022. These brands have the perfect combination of style, performance, and price points to capture the attention of consumers.
 Here are 5 motorcycle brands that will dominate the market in 2022.
Ducati
Honda
Yamaha
Kawasaki
Suzuki
Ducati is a motorcycle manufacturer.  The company produces sport-styled motorcycles with 150 to 1,200 cc displacement engines.
Ducati motorcycles are high performance has sporty handling and distinctive sound. In 2022, Ducati plans to focus its production on electric motorcycles.
The company has a wide range of motorcycle models, including the Monster, Hypermotard, Multistrada, and Diavel. In 2002, Ducati introduced the Desmosedici RR, a limited production road bike, the most powerful twin-cylinder motorcycle in production.
Honda is one of the world's largest and most successful automakers. It has a rich history that spans more than 60 years. Honda has always been a leader in cutting-edge technology and innovation, and it has produced some of the world's most popular and well-known vehicles.
In 2022, Honda plans to continue its legacy of excellence by focusing on new technologies, such as electric and self-driving vehicles. It also plans to expand into new markets, such as China and India. In addition, Honda will continue to produce high-quality vehicles that are affordable for everyone.
Honda motorcycles are some of the most popular bikes on the road. They come in a variety of styles and models to fit the needs of any rider. Honda is always looking to the future and has plans to release several new models in 2022.
Some of the new Honda motorcycles that will be hitting the market in 2022 include the CBR650F, Gold Wing, NM4, and CRF450L. These bikes are sure to excite riders and continue Honda's tradition of excellence. So be sure to check them out when they hit the showrooms.
The Yamaha motorcycle brand is a Japanese manufacturer first established in 1887. The company produces a wide range of motorcycles, from sport to off-road bikes. In addition to motorcycles, Yamaha also manufactures marine engines, golf cars, and various other products.
The company is expected to continue producing popular motorcycles brands in 2022. Some of the most popular Yamaha motorcycle models in 2022 are expected to be the R6, the FZ-09, and the MT-07. These models are expected to be incredibly popular with consumers due to their design, performance, and affordability.
Due to its high standards and commitment to customer satisfaction, Yamaha is expected to maintain its leading position in the motorcycle market by 2022.
The company is expected to continue producing innovative motorcycles that are reliable, safe, and stylish.
Kawasaki motorcycles are a famous brand in the United States. The company has been in business for over a hundred years and has seen success throughout its existence.
Kawasaki plans to focus on electric motorcycles in 2022. The company has already released a few electric models, such as the Z1000SX and the Ninja H2 SX.
These bikes have been very well received by the public and have shown that electric motorcycles can be just as fun and exciting as their petrol-powered counterparts.
These new electric motorcycles will be powered by lithium-ion batteries and will have a much longer range than the company's previous models. They will also be more affordable, which should help to increase Kawasaki's market share.
Suzuki motorcycles are one of the top brands in the motorcycle industry. They have a wide variety of bikes for all types of riders, from beginners to experts. In 2022, Suzuki plans to have even more innovative and exciting motorcycles to offer riders.
Suzuki plans to release the new bikes in 2022, including the GSX-R1000R, the Hayabusa, and the V-Strom 1000XT. These bikes are sure to impress motorcycle enthusiasts and riders alike. With advanced features and exciting designs, Suzuki will dominate the motorcycle market in 2022.
Summary
Motorcycle enthusiasts have plenty to be excited about in the years to come motorcycle market is growing more and more every year, Motorcycle brands are coming out with new models every year to try to dominate the market, and by 2022.
these five brands are going to take over the market. Honda, Ducati, Yamaha, Kawasaki, and Suzuki are all reputable brands with a history of producing high-quality motorcycles. So if you're interested in owning a motorcycle shortly, be sure to check out these brands.