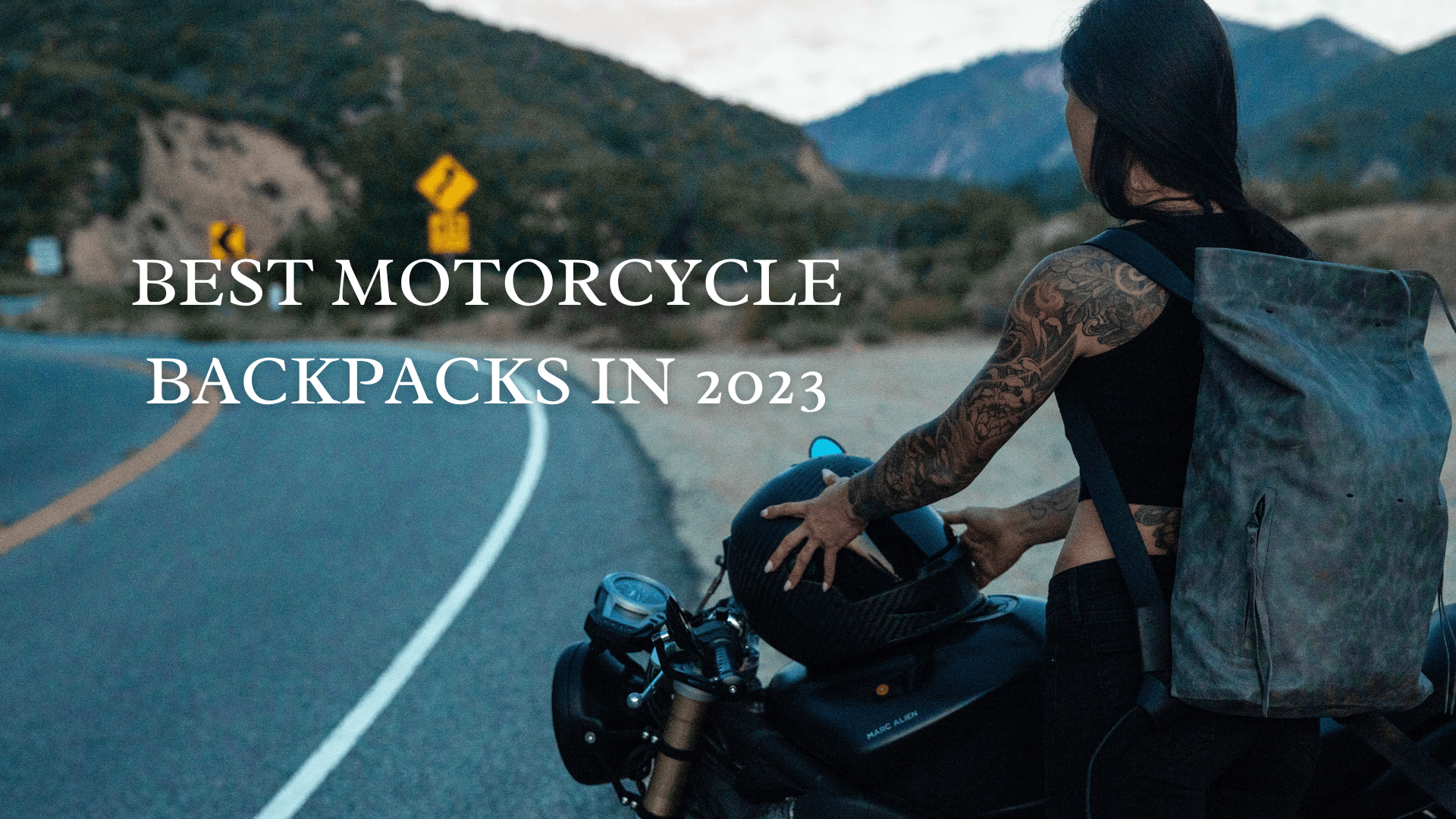 BEST MOTORCYCLE BACKPACKS IN 2023 | XYZCTEM®
by: Clarie Lum -
Considering its numerous advantages, a motorcycle backpack is a must-have for every biker or motorcycle enthusiast. It helps give a hitch-free ride. It makes it easy to carry your properties while riding. Aside from this, a motorcycle backpack adds a fashionable look that can lure a nonbiker to want to be a biker. Most riders want attention and prefer the stylish gangster look with a backpack, especially if it is a matching color.
So, if you plan to purchase a backpack to give you a stunning look, help you keep your properties safe, and help you carry easily, you should go for the best motorcycle backpack. This article will help you with the best motorcycle backpacks in 2023.
Motorcycle Backpacks to Consider
Motorcycle backpacks vary in size, material, strap designs, and color, among other features. Whatever purpose you decide to get a motorcycle backpack, this article will provide insight into the type you need. 
Are you an adventurous biker who enjoys riding and doesn't mind getting soaked in the rain? If you fall into this fit, you must try this exceptional waterproof backpack. Xyzctem motorcycle backpack ranks first among the best pack you can consider.
Xyzctem waterproof motorcycle backpack has a large space capacity that can take a lot of items. It contains hard-shell side pockets that can hold many travel essentials, such as wallets, cell phones, keys, gloves, sunglasses, repair tools, etc.
One fantastic feature of the xyzctem waterproof backpack is the luminous and reflective hand traps and body, making you visible to other automobiles at night.
Features
---It is easy to install.
---It is a hand-stitched high-quality bag made from hand stitched with quality EVA material with a wear-resistant shell to make it durable.
---Waterproof
---Reflective protector
As the name implies, the xyzctem motorcycle multi-backpack is one of the best motorcycle backpacks capable of serving many purposes simultaneously.
Xyzctem motorcycle multi backpack is made with premium material. The motorcycle tail bag is constructed from ABS plastic, 1200D waterproof oxford fabric, and rugged, durable PU leather, providing high-quality water and tears resistance.
It is a waterproof helmet bag sealed with a two-way PU coating and an extra rain cover for rainy days. It has a large capacity and can expand from 24L to 35L. It can be adjusted to suit different bag needs.
Features:
---It is a waterproof
---Made of premium material
---Easy to install
Another unique backpack to consider when choosing the best motorcycle backpack is the Icon speedform backpack. Icon speedform backpack has an adjustable sternum and detachable shoulder straps, which makes it easy to remove while wearing your jacket. It also gives comfort and a secure fit while riding.
It has a fleece-lined quick exterior pocket to protect your sunglasses or electronics and a YKK Aquaguard zipper to keep the main compartment watertight.
It has a 15" laptop compartment space and an internal pocket to hold the Viper D3O back protector if the rider desires extra protection. It has an integrated helmet cradle to secure your helmet to the outer side of the bag.
Features:
---4-way adjustable shoulder straps with quick release  
---It has an adjustable sternum strap
---Helmet carrying system
---Metal Icon badge logo
---Integrated speed hump
Do you worry about leaving some of your essentials while going for a ride? Then, the OGIO Mach 1 Backpack will alleviate your worries. Even though this backpack may not match up to its March 3 and 5 counterparts, it ranks on the list of the best motorcycle backpacks that meet a rider's needs.
This backpack has a streamlined shell that hugs the body, while the padded interior keeps the valuables safe. It has a laptop compartment that can safely hold up to a 15 inches laptop. It also has shoulder straps which are adjustable and comfortable to use.  
Features:
---Chest and waist straps
---Capacity of 18.4L
---Custom Ogio Logo and trims
---Interior organizer panel
---Hydration ready
Safety is a priority for every biker. But if you are extra cautious, you should check out the Ogio no-drag Mach 5 D30 backpack. It has an aerodynamically molded exterior shell with an Integrated Level 2 back protector. 
Ogio no-drag Mach 5 D30 backpack eliminates the fear of the wind dragging you backward. Another remarkable feature of this backpack is its large storage capacity which its zipper gusset can expand.
Features:
---Multiple compartments (Laptop, iPads, shoe storage compartment)
---Ergonomic padded back panels
---No waterproof
---Protective shell
If flexing your bike despite the weather is your thing, you should check out the Nelson Rigg Hurricane backpack. It is one of the best motorcycle backpacks during winter.
This backpack offers 100 percent waterproof security for your belongings. It is constructed with heavy-duty PVC Tarpaulin and electronically heat-welded seams.
It also has comfortable back panels and adjustable straps for comfort. The padded back panels have sections to allow for better airflow.
Cleaning this backpack is easy, too, as its UV Coated outer material cleans easily and prevents slipping or marking. This backpack also has a mounting system that allows you to use it as a tail bag. The back panel opens to conceal the straps when used as a tail pack. It is durable and has the following features.
Features:
---Reflective webbing for enhanced visibility
---100% waterproof backpack
---30-liter capacity
---Dual quick-release closure
---Watertight roll closure with quick-release buckles
CONCLUSION
Choosing a suitable motorcycle backpack for yourself may appear daunting, but it is not. Essential features such as the capacity, the material, and whether or not the bag is waterproof will help you make your decisions.
We have curated a list of the best motorcycle backpacks, including the xyzctem waterproof backpack, the xyzctem motorcycle multi backpack, the Icon Speedform backpack, and the Ogio Marc 1 and 5 backpacks, as well as the Nelson Rigg Hurricane backpack. And if you are searching for the best and most durable backpack at an affordable price, visit xyzctem store.