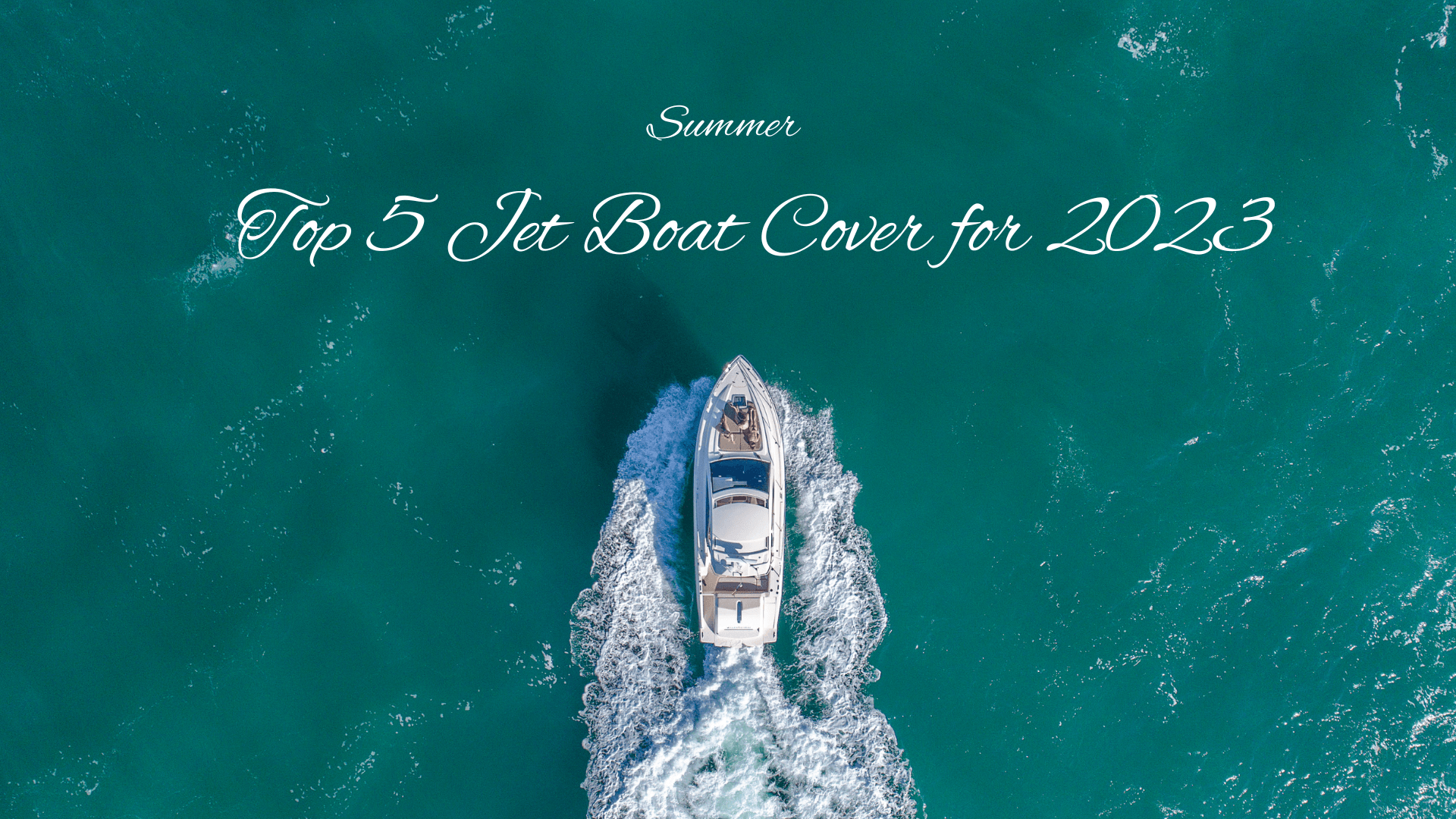 Top 5 Jet Boat Cover for 2023 | XYZCTEM®
by: Clarie Lum -
If you are a fan of aquatic sports, especially jet boating, you should equip yourself with adequate boat covers to ensure your boat stays in good condition. As a boat owner, there is always something to fix. That is why it is advisable to protect your jet boat from the sun, rain, or snow when you are not sailing to reduce damage and save some money.
However, this article will guide you through the 5 best boat covers in 2023. Also, it will highlight the advantages and disadvantages of each boat cover to suit your choice of purchase. But before that, let's quickly dive into what a jet boat is.

Jetboats fall amongst the range of recreational boats, especially for sporting activities. Unlike powerboats or motor boats that use external propellers, jet boats are propelled by a jet of water drawn through an intake under the boat into a pump jet inside the boat, which is later ejected from the nozzle at the stern.
Five Best Jet Boat Cover for 2023
Xyzctem Boat Cover
If you are into fishing and need to protect your boat from cracks or heavy UV rays, you should consider using xyzctem's 600D boat cover- fishing boat cover. Xyzctem 600D boat cover is one of the best boat covers that has a fantastic waterproof and UV resistant design. XYZCTEM boat cover is made of Waterproof and UV resistant coating durable marine grade fabric that is strong enough to  keep your boat in best condition, and protect your boat from all kinds of weather throughout the year. 
Pros
---It has two thread stitching and elastic cord designed for secure and snug fit.
---It is is rip-resistant and anti-uv
---It is a universal boat cover fit for all kinds of boat
---Comes with a year warranty 
---Fits for boats 17 ft-24 ft long with beam widths up to 96-102in
Cons
---Only available at xyzctem store.
MSC Heavy Duty 600D Waterproof Boat Cover
The MSC Heavy Duty 600D Waterproof Boat Covers rank first on the list of the best jet boat covers for 2023. MSC heavy-duty waterproof boat cover is an all-rounder cover made from 600-denier marine-grade polyester canvas, which is perfect for protecting your boat from any weather. It comprises a double polyurethane coating that enhances the cover'scover's water resistance. 
It has a double PU ultraviolet light protection coating that will protect your boat against UV rays. MSC heavy-duty 600D waterproof boat cover is a quality, straightforward boar cover for any boat's length.
Pros
---It is designed for both indoor and outdoor storage
---It has adjustable straps
---3 years lifetime warranty 
---It is made up of quality material
---It comes in various sizes 
Cons
---The strap has loose ends 
---Lacks supportive poles
---Quite expensive 
Goodsmann V-Hull Boat Cover Marine Grade Heavy Duty 150D 300D 600D Mode B
 Goodsmann V-Hull boat cover is the perfect fit if you are searching for a pocket-friendly boat cover. Goodsmann V-Hull boat cover is made from 150 Denier PU coated Marine Grade waterproof polyester, which makes it suitable in mild weather conditions. It comes in various sizes to fit any boat of your choice. 
The Size B boat cover is a perfect fit for a jet boat with a 14'-16'' beam width of 90. Likewise, size D is equally perfect for a 17'-19' beam width to 96 jet boats. Similar to MSC Heavy Duty 600D Waterproof Boat Covers, it has ultraviolet light protection against heavy rays from the sun.
Pros
---It has a bow strap design that is easy to install.
---It is easy to clean and has a reflective material 
---It has a free storage mesh bag
---It contains air vents to let moisture out
---Pocket friendly 
---It has a duty wobbling rope and elastic rope with elastic side hooks
Cons
---It has limited size options to choose 
---Short lifespan
iCover Trailerable Boat Cover
iCover trailerable boat cover is one of the boat covers specifically designed to withstand high wind on the freeway. It comes in different colors: gray, blue, and tan. It comes with a storage bag and instructions to protect your properties from water. It has an elastic cord hem to ensure a strong and firm, snug fit.
 Also, the stretchy cords can be attached to the hem'shem's integrated D-rings to keep the cover in place. iCover trailerable boat cover is a double stitched seam and fabric reinforcements at the bow and stern.
Pros
---Perfect for mooring and trailing
---It has an air vent to prevent wind condensation and pressure
---It fits all types of boats, such as bass boats, fish and ski, V-hull, tri-hull, and many more.
Cons
---Short lifespan
---The color fades in time
---It has the support pole sold separately.
Seamander Heavy-Duty Waterproof Trailerable Boat Cover
Seamander heavy-duty waterproof trailerable boat cover is the best during heavy snow, storm, and typhoons. It is also advisable for boat owners living in sunny regions because of the silver coating that protects it from harmful UV rays, prevents the fabric from wearing off, makes the rubber of the fuel hose firm, and prevents the timber from cracking.
 It is one of the boat covers fit for jet boats like Vortex 2430 VRX and Yamaha SX190, amongst others. It is made of a waterproof and mildew marine-grade polyester canvas. Similar to icover trailerable boat cover, it has the capacity to withstand heavy wind and pressure. It is the best UV-ray resistant.
Pros
---It is 100% waterproof
---High level of durability 
---It comes with 11 straps, a bag, and an elastic hem.
---Best during winter, heavy rainfall, or snow.
---It comes in various colors.
Cons
---It is not well ventilated
---Lack of supporting pole
Conclusion
Protecting your jet boat should be as important as the jet boat itself. However, this article has given you the 5 best jet boat covers and exposed you to the advantages and disadvantages of each one, irrespective of the weather condition. And if you are in search of where to get durable boat covers at pocket friendly prices, visit xyzctem store.