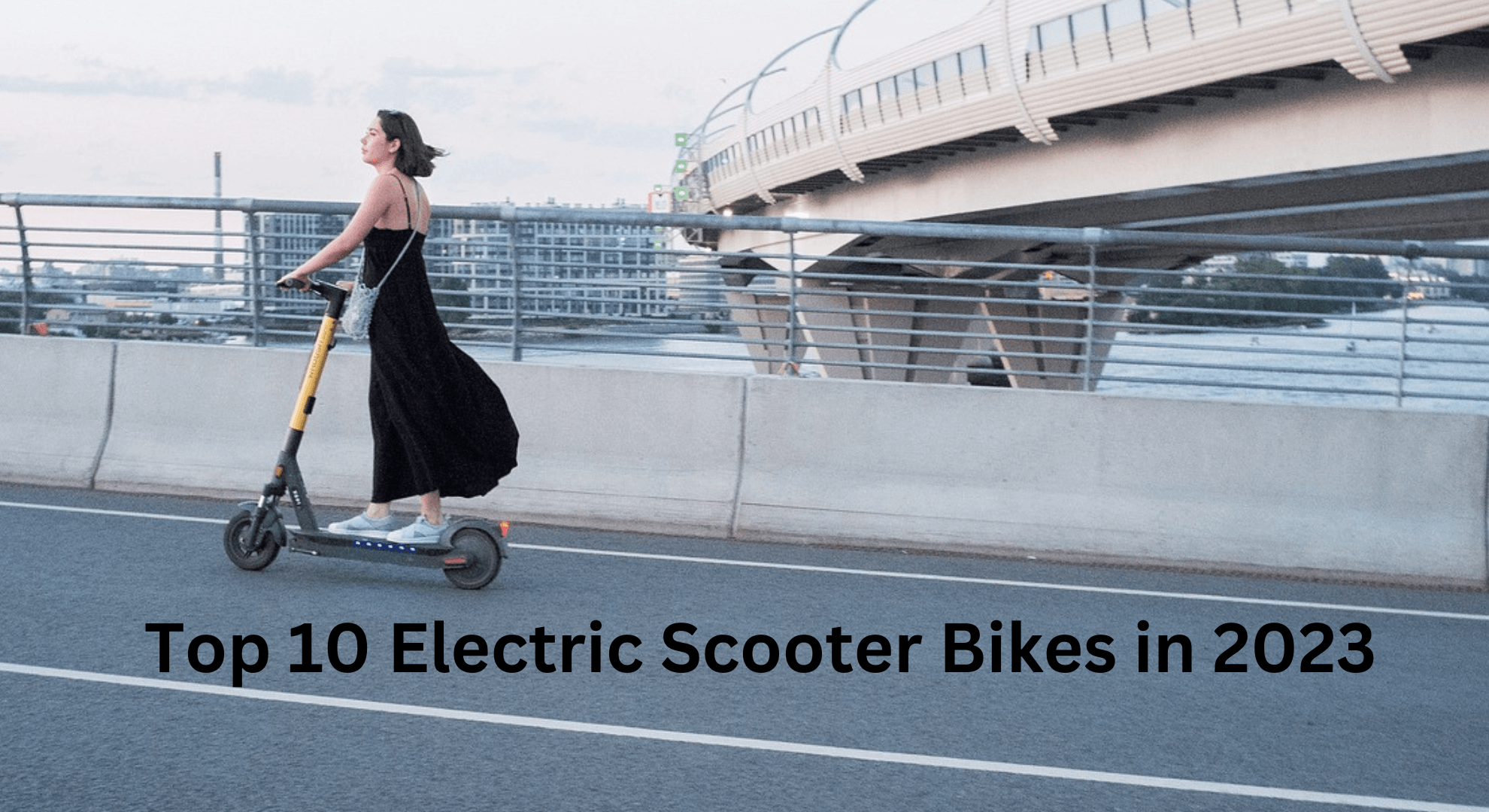 Top 10 Electric Scooter Bikes in 2023 | XYZCTEM®
by: Clarie Lum -
We were introduced to mechanical machines that have to be powered by fuel and diesel, and it has made transportation easier and faster. But, the invention of electric machines for transportation changed the game.
Electric machines were not only created for cars but also bikes. The electric scooter bike became popular among children but it has become a go-to bike for adults.
Aside from the fun they offer, electric scooter bikes make it easier to go wherever you want, whether short or long distance.
You've made a good decision if you've decided to get one. Choosing a good electric scooter bike poses a challenge as they come with different specifications. Here, you'll learn about the top 10 electric scooter bikes of 2023. 
Top 10 Electric Scooter Bikes in 2023
For lovers of speed, the Apollo City operates at a top speed of 27 mph and has a single 500-watt rear motor, while its other model, the Apollo City Pro, works at a top speed of 32 mph due to its front and rear 500-watt motors. 
Apollo City has a single suspension spring in the front and two at the back. This is paired with self-healing 10-inch tires allowing the bike to hold its own even on the bumpiest streets. Apollo City weighs 26 kg, and the city pro weighs 29.5kg.
Both scooter bikes can support riders of up to 265 pounds, and both models have three riding modes; Comfort, Sport, and Eco. There is also a companion app for both iOS and Android users that allows the riders to control the bike's settings such as park mode, speed, run diagnostics, etc.
Price: Apollo City costs $1,399, while the Pro costs $1,699.
Piaggio 1 is an electric scooter bike that is straightforward, easy to pick up, and can go 55 miles on a single charge. It has bump-proof bodywork, a light 85kg weight, and scaled-back mechanicals.
It has a battery capacity of 1.4kWh with a charge time of 6 hours. It has a full-color LCD digital display, a keyless operation system, and LED lighting. One of the unique things about Piaggio 1 is that it comes in various colors, such as white, black, grey, etc. So, you can pick your choice.  
Price: $2,700
Horwin SK3 has an adjustable front windscreen and a chunky, angular front nose arrangement. Horwin SK3 offers the most extended range of all-electric scooters, 98 miles. It weighs 94 kg, has a battery of 2.5kWh, and a charge time of 4.5 hours.
Price: $3,349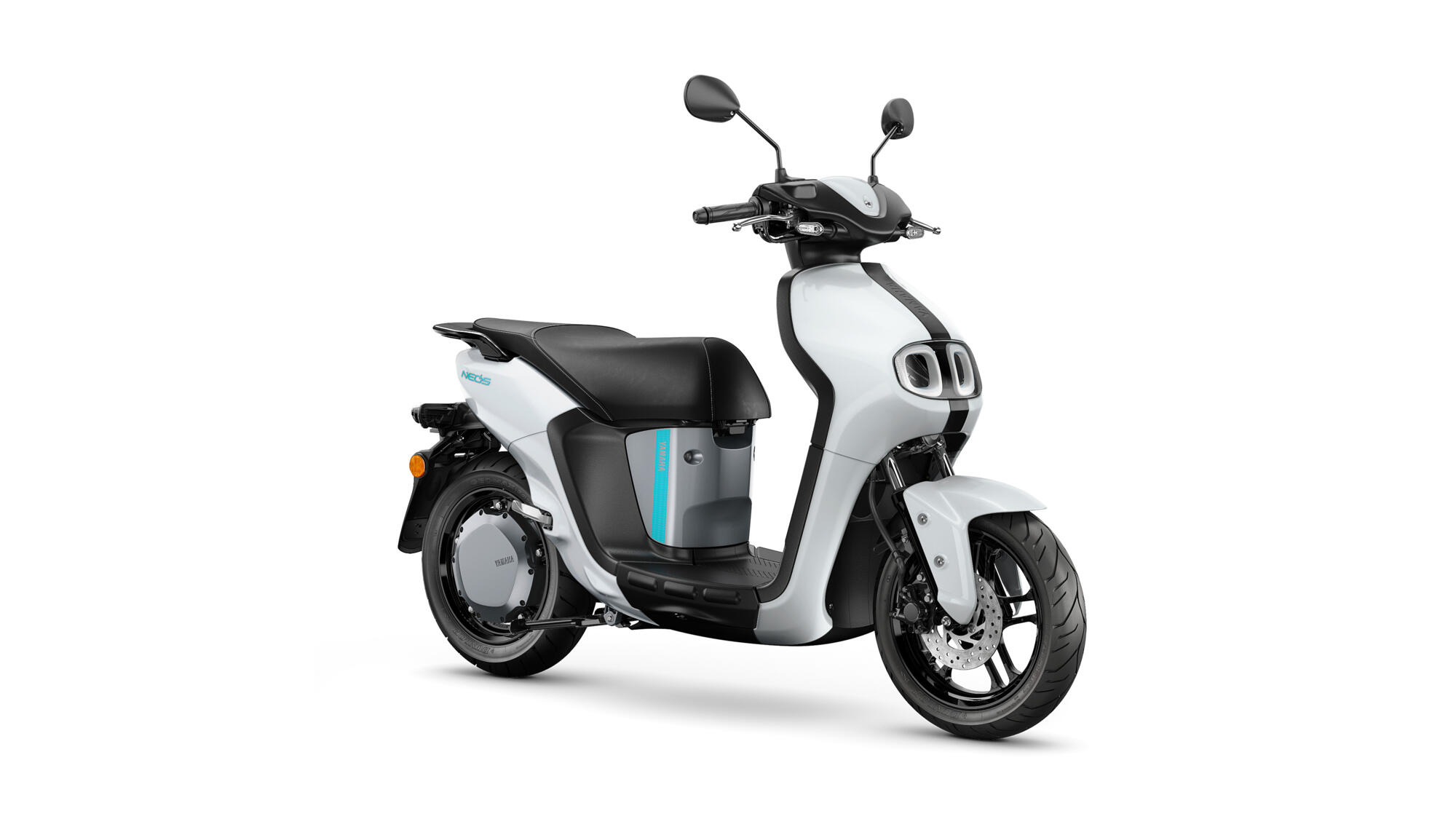 Yamaha NEO is the best scooter for people who have just passed their CBT, as it is agile, responsive, and easy to ride. With a 2.5kW battery, it can go 37 miles before powering down. It weighs 90 kg and has keyless ignition, two riding modes, connectivity, and large 13-inch wheels. 
Price: $3,350
This is a good option for beginners, it looks like a motorcycle and is lightweight and agile. It weighs 72 kg and provides the option of a single or dual battery. 
It comes with LED lighting, a digital display, keyless ignition with a security alarm, and opportunities for app connectivity. 
Supersoco TSX can reach a top speed of 45 mph, but this can be electrically modified to limit it to a rate of 28 mph, making it ideal for beginners. 
Price: £2,899 (Single Battery), and £3,399 (Dual Battery).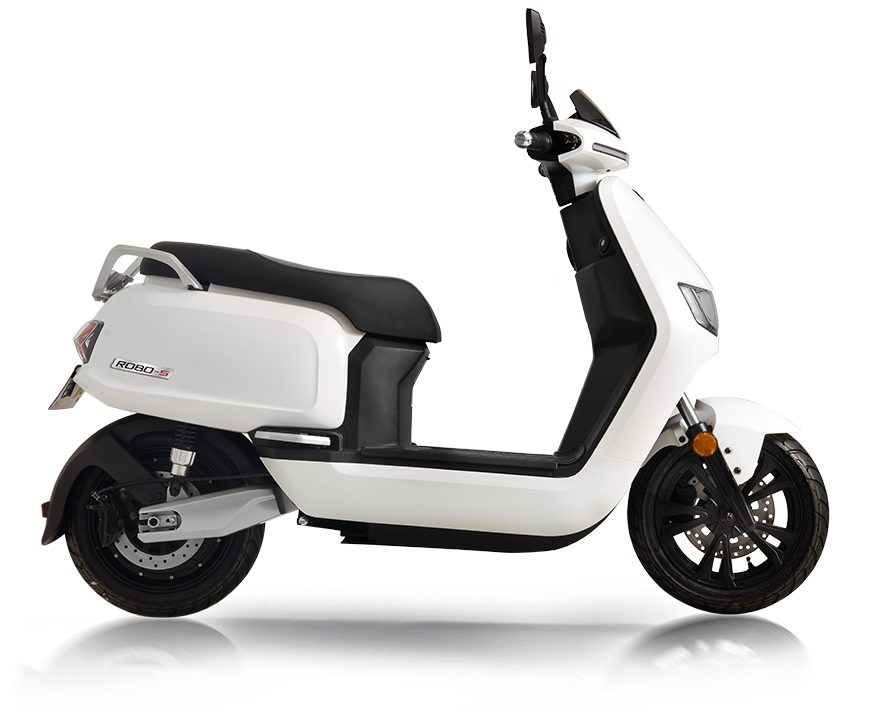 Sunra Robo is a Beijing-manufactured EV powered by a 3kw dual-mode motor that can attain a top speed on full batteries of around 28 mph. It is also agile and lightweight, thus making it easy to ride and maneuver.
Talking about style, Sunra Robo is simple, clean-lined, and effective. It has full-LED lighting, a large digital display, keyless fingerprint ignition, and removable batteries. It has a charge time of 4 hours and a weight of 102 kg.
Price: $3,299
The Turboant V8 is an ideal scooter for both short and medium-distance travel. It can last up to 50 miles on a single charge and has a 450-W motor that gives it rapid acceleration and an impressive top speed. 
Its unique feature is that it has a dual battery design that allows you to charge both batteries for four hours. It doesn't have some of the features like the other scooters, such as bells, apps with smart features, etc. But when it comes to power and range, Turboant V8 is one of the best you'll ever get.
Price: $649
Glion Balto is one of the top 10 electric scooters of 2023. It has lights and turn signals, side view mirrors, and makes it easy to carry items from one place to another. It's easy to store as it can fold up on itself. It has a geared brushless hub motor of 500-Watt, and a top speed of 17 mph. 
With a weight of 17kg, it can support a rider weight of as much as 255 pounds. One good thing about the scooter is that the battery is removable, so you don't have to park it near an outlet.
Price: $699
What makes the Inokim Ox Super stand out is its performance, its 1000W motor and 60V 21Ah battery can speed up to 28 mph with a range of 54 miles. It is one of the few unique electric scooter bikes in the market in terms of design. It has a floating wheel that isn't directly connected to the scooter's stem; instead, it uses a mono-fork wheel design with adjustable suspension for off-roading and smooth roads. It's comfortably high-end, and it's worth the price.
Price: $1,000
Razor E100
This is the best electric scooter for kids. It is available in different colors and styles, so you'll surely get one that fits your kid. It weighs 22 pounds and can support riders of about 120 pounds. It has a hand-operated front brake and twist-grip acceleration controls. 
The only downside is that it has a loud chain drive motor and no reflectors or bells. You may have to purchase a reflector or bell at a bike shop to make your bike more visible on the road. The Razor E100 is easy to ride and fun to learn. It has a maximum speed of 10 mph and a motor of 100 watts.
Price: $1,099 
Things to Consider Before Purchasing an Electric Scooter Bike
To get the best electric scooter bike that will suit your needs perfectly, you should put in mind the following things;
Distance of your travel

Weight of you and your luggage 

Price (your budget)

Purpose (what you need it for)
Conclusion
The electric scooter bike market is rapidly growing because of its benefits, such as easy commuting, convenience, speed, and eco-friendliness. They are designed to meet the needs of people and make life easier and more fun for them, and they are affordable. Feel free to go for any one of your choices.