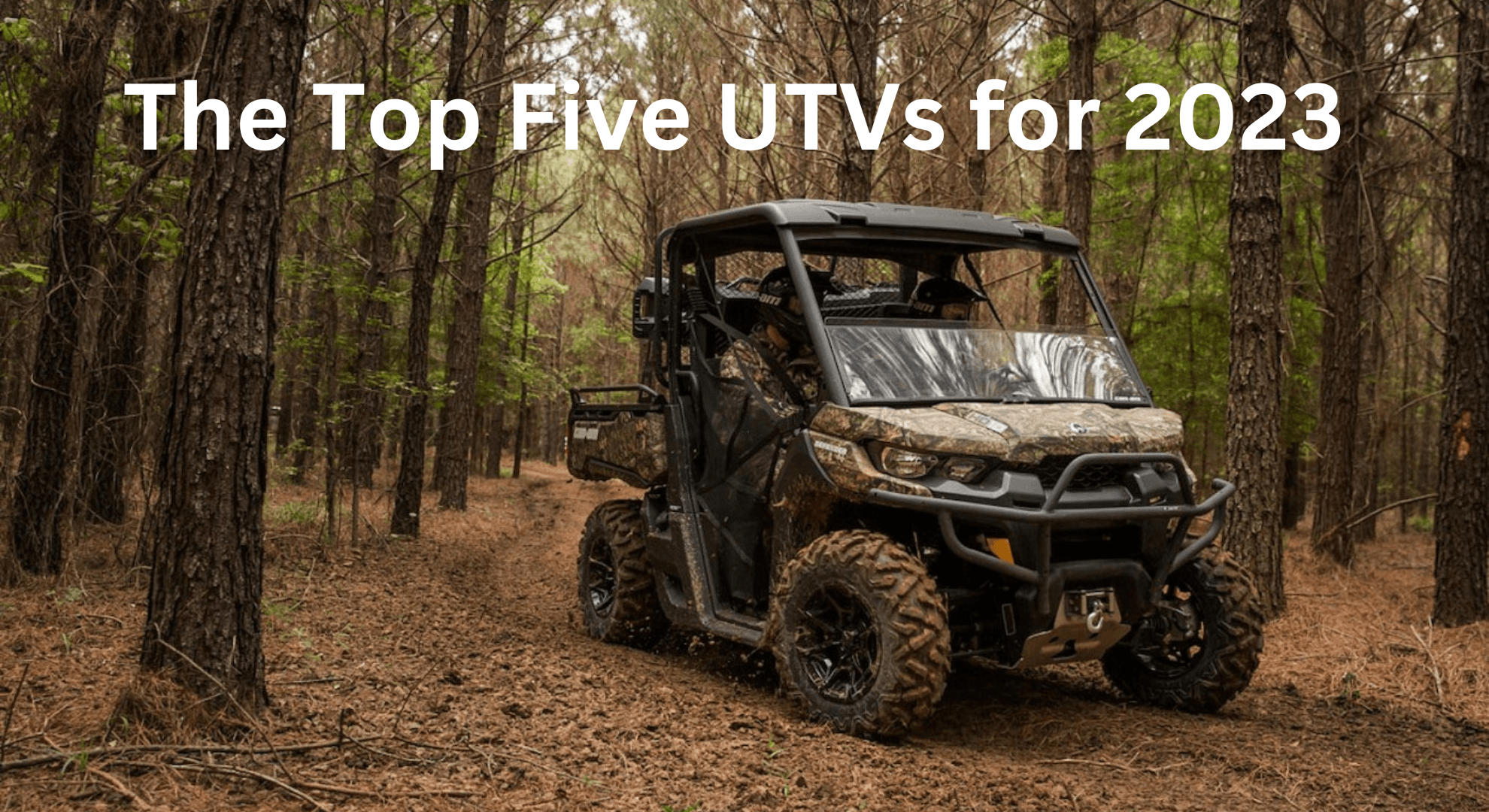 The Top Five UTVs for 2023 | XYZCTEM®
by: Clarie Lum -
Getting the best UTV can be overwhelming for people who desire a reliable and capable vehicle for recreational and utilitarian purposes. Whatever its purpose, it is vital to get the best UTV to help get the job done. 
Selecting the best UTV requires considering features like size, power, suspension, tires, storage, safety measures, and other basic features that will suit your needs and provide years of reliable service.
Therefore, this article will provide you with the best UTV in 2023, including its key features, the pros and cons. But before then, let's have an insight into what to look for in a UTV.
What To Look Out For In A UTV
When shopping for the best UTV, there are several things to consider. These factors contribute to making informed decisions and selecting the best choice.
Size: UTVs come in a range of sizes from two to six seats and beyond. Pick a size that meets your needs and enables cosy seating.
Suspension: Choose a UTV with a robust suspension system that can handle any terrain without the fear of getting stuck. It is crucial to note that a smooth ride and less wear and tear on the car are benefits of a capable suspension system.
Top 5 UTV for 2023

The RZR XP 1000 Sport is equipped with advanced technology and features, making it one of the best UTVs. The vehicle's high-performance transmission system enables seamless shifting and exceptional acceleration for adventurous drivers who enjoy the thrill of off-road driving. The Polaris RZR XP 1000 Sport is powered by a 999cc, 4-stroke, DOHC, twin-cylinder engine that delivers a maximum power output of 110 horsepower. It features a high-performance suspension system that includes Fox 2.0 Podium shocks with compression adjustment. 
The suspension system provides up to 18 inches of travel, guaranteeing a pleasant ride on even the roughest terrain. The RZR XP 1000 Sport has various safety features, including four-wheel hydraulic disc brakes with dual-bore callipers, a seat belt interlock system, and a roll-over protection system. 
It also provides comfortable, high-back bucket seats with adjustable driver's seats, tilt steering, and a digital gauge cluster. 
Pros:
---Exceptional performance and handling
---Comfortable driving position.
---Equipped with safety measures
Cons:
---High price tag
---Requires regular maintenance
---Quite loud
---Fuel inefficiency
The Can-Am Maverick X3 X RS Turbo RR 72 is an impressive off-road vehicle designed for thrill and attention seekers who prioritize performance and power. Can-Am Maverick is powered by a 900cc, 3-cylinder engine with a maximum power output of 195 horsepower and a top speed of 82 mph. 
It has an adjustable suspension system offers up to 22 inches of front and rear wheels, making it perfect for any terrain. 
With a track of 72 inches wide, the vehicle provides more stability and traction, especially when cornering at high speeds. It has impressive features, including a full LED lighting system making it one of the best UTVs that offers sufficient visibility, even in low-light circumstances. 
In addition, it is equipped with a Smart-Lok differential system that automatically locks the front and rear wheels and provides maximum traction in challenging terrain. With its powerful engine, advanced suspension system, and wide track, the vehicle can move on any terrain providing an adventurous and exhilarating off-road experience. 
Pros:
---Powerful engine and suspension system
---Smart Lok
---Adjustable bucket seats and sport steering wheel 
Cons:
---Not suitable for beginners.
---Quite expensive
---Difficulty moving on narrow roads
The Yamaha YXZ1000R SS XT-R is a sporty, side-by-side vehicle for off-road adventures. It is powered by a 998cc three-cylinder engine and features a unique 5-speed sequential shift transmission with automatic clutch and paddle shifters.  
It features FOX 2.5 Podium RC2 Shocks with adjustable compression and rebound damping, beadlock wheels and Maxxis Bighorn 2.0 tires, full underbody skid plates and aluminium A-arm guards for added protection, and colour-matched interior and seats, with embroidered XT-R logo. 
Its unmatched performance, comfortable and modern interior, and sturdy and reliable construction make it a top choice for off-road enthusiasts. 
Pros:
---Unmatched Performance 
---Comfortable and Stylish
---Durable and Reliable
Cons:
---No Power Steering
---Limited Cargo Space
---Expensive
The Honda Talon 1000R is a high-performance off-road vehicle designed for enthusiasts who seek a thrilling experience on the most challenging terrains. The Honda Talon 1000R is powered by a 999cc liquid-cooled, parallel-twin engine that delivers 104 horsepower and 87 lb-ft of torque.
 It has a six-speed dual-clutch transmission that enables rapid and seamless shifting and a manual mode that gives the driver complete control of the gears. 
The vehicle's suspension system features a double-wishbone design with FOX Podium 2.5 shocks, providing 17.7 inches of front and rear travel. This allows the Talon 1000R to handle even the roughest terrains with ease. 
The vehicle has an electronic power steering system that improves handling and lessens driver stress, as well as a high-strength steel frame for protection.
Pros:
---Powerful Engine
---Dual-clutch Transmission
---Electronic Power Steering
Cons:
---Heavy weight and large size 
---Limited Seating

Kawasaki Teryx KRX 1000 ES is a side-by-side off-road vehicle for rough terrain. It is a 999cc liquid-cooled, four-stroke parallel-twin engine with 112 horsepower and 76 lb-ft of torque powers the vehicle. 
The vehicle boasts a long-ride suspension system that ensures comfort even on unpaved roads. It comes with 31-inch Maxxis Carnivore tires, which offer superb traction on any surface. The wheels have a 15-inch diameter and are composed of lightweight aluminium. Additionally, the KRX 1000 ES has Electronic Power Steering (EPS), which offers superb handling and easy manoeuvring over obstacles.
Pros:
---Excellent acceleration
---Long-travel suspension system
---Comfort and safety
Cons:
---Noisy engine
---Poor fuel economy
Conclusion
Choosing the best UTV that serves the purpose you want will save you from spending extra money on trying to convert the wrong choice to fit your desire. However, this article has provided five top UTVs in 2023. It has also highlighted their specification, cons and pros. Irrespective of the purpose of your UTV, you should always be cautious when operating one for durability.