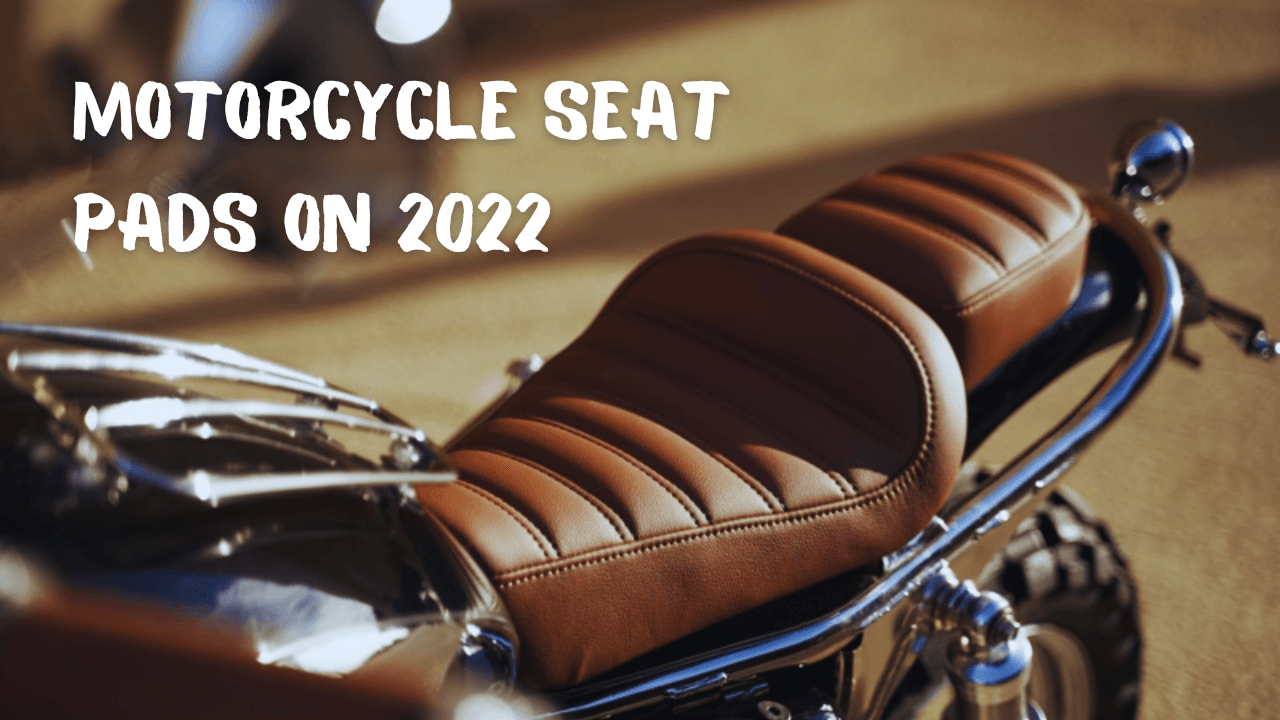 Best Motorcycle Seat Pads: More Enjoyable Riding On 2022 | XYZCTEM®
by: Clarie Lum -
So you've found the perfect motorcycle, and it has all the features you want. The only problem is that it isn't quite as comfortable as you'd like. You know, something like a seat pad would fix that right up. There are many different kinds of riders out there, and even within these types of riders, everyone has their own personal style when it comes to riding. Some people love fast and flashy bikes that are perfect for cruising around town or racing on a track. Others prefer to ride more practical bikes that double as commuters and keep them safe from the elements while remaining inexpensive to own and operate. Regardless of what kind of rider you are, we think you'll find one of these best motorcycle seat pads useful for your ride, as greater comfort equals longer and more enjoyable riding!
What Is a Motorcycle Seat Pad?
A motorcycle seat pad is a special pad that you can put on top of your seat. It's a form of seat cover that is meant to protect the original motorcycle seat and enhance its comfort by adding extra padding. Seat pads provide a cushion for your rear end that is both softer and more breathable than the material of the seat. They protect your skin from chafing and irritation from sitting on the hard seat for extended periods of time. They also help protect the motorcycle seat from wear and tear. Seat pads are designed to fit the shape of the seat they are designed to protect, with some even able to stretch to fit a range of sizes. Most seat pads are made of a synthetic material, such as nylon or polyester.
Some riders prefer to add a seat pad(s) to make their seat more comfortable to sit on longer rides. Motorcycle seat pads are often overlooked. You might think that they're unnecessary, but they're incredibly useful. Seat pads protect your skin from the hard seat while adding extra comfort. You may not think that a seat pad can make a difference, but it truly can.
Best Motorcycle Seat Pads in 2022
The SW-MOTECH Traveler Rider Cushion
The SW-MOTECH BAG Traveler Rider Cushion is a very durable and useful pad. It is extremely comfortable and is great for long rides. This pad is also water-resistant and looks really nice.  
You can check it out here: SW-MOTECH
Saddlemen Comfort Gel Seat Pad
This pad provides a comfortable ride for both rider and passenger due to its gel-like material that molds to your body's shape. It also has an ergonomic design that prevents pressure points from developing on your backside, which can lead to discomfort or even pain. It comes in five different sizes: Medium, Large, Easy reach, Extra-large and Jumbo. So, you can select the perfect fit for your motorcycle and take it with you to improve comfort everywhere you sit. Check it out here
1.Saddlemen Sport Gel Seat Pad: This seat pad also has gel-like material, but it's much thinner than the Comfort Gel Pad, which makes it perfect for riders who need a little more protection from road hazards.
2.Wild Ass Smart Design AirGel Air Cushion Seat Pad: This classic seat pad is available on jpcycles. You can check it out.
3.AirHawk AH2 Small Pillion Cushion : AirHawk Motorcycle seat cushion uses parented Air Cell technology and they do not degrade over time. With improved air flow, they stay cool even in the summer. They are also available on jpcycles.
Why You Should Care About Your Seat
That seems like a weird thing to be concerned about, doesn't it? After all, you're just sitting on it, right? Well, yes and no. Your seat is probably the one piece of your motorcycle you interact with the most. You sit on it for hours as you ride to new places, cruise around your neighborhood, or go to work. The seat you choose for your motorcycle is important because if it is uncomfortable, you'll be miserable. And there is nothing worse than being miserable while you're out on the open road. The seat is also one of the most important safety features on your bike. It holds you in place while you ride, and it is what keeps you from flying off the motorcycle if you have a sudden stop or accident. So, investing in a good motorcycle seat pad that offers a nice amount of padding to protect your skin and distribute your weight evenly is very important.
How to Choose a Motorcycle Seat Pad
What should you be thinking about before making a motorcycle seat pad purchase?
First, decide what kind of rider you are. Are you someone who likes to go fast or likes to keep it casual? There are different kinds of seat pads out there that are made for different styles of riding. Next, think about what kind of motorcycle you have. Not all seat pads are created equally. Some are designed to fit on a variety of seats, while others are made for specific models. And finally, consider your budget. Some seat pads are much more expensive than others, and you don't want to break the bank on a product like this.
Other things you might also want to consider are:
1.The type of material the pad is made of. There are many different types of materials that pad makers use. You may want to choose a type of material that is easy to clean. Some materials are easier to clean than others.
2.How hot the pad might get in the sun. This is especially important in the summer months when the weather is warmer.
You'll also want to think about what features you want in your pad. Do you want a pad that has extra cushioning? Do you want a pad that has straps to keep the pad from sliding around on your seat? Do you want a pad that is water resistant? These are all features you might want to consider.
Conclusion
A motorcycle seat pad is an essential item for any motorcycle enthusiast. They come in many different shapes and sizes, offering something for everyone. Whether you're looking for a stylish leather seat pad or a more budget-friendly synthetic one, you can find something that fits your needs. Even if your motorcycle is in great shape and ready to roll, a seat pad can make it even better. They protect your skin while they make you more comfortable. They also help protect your motorcycle from excessive wear and tear.
So, whether you're the type of rider who likes spending long hours on the road or likes to keep it short and sweet, we think you'll find a seat pad that's right for you!