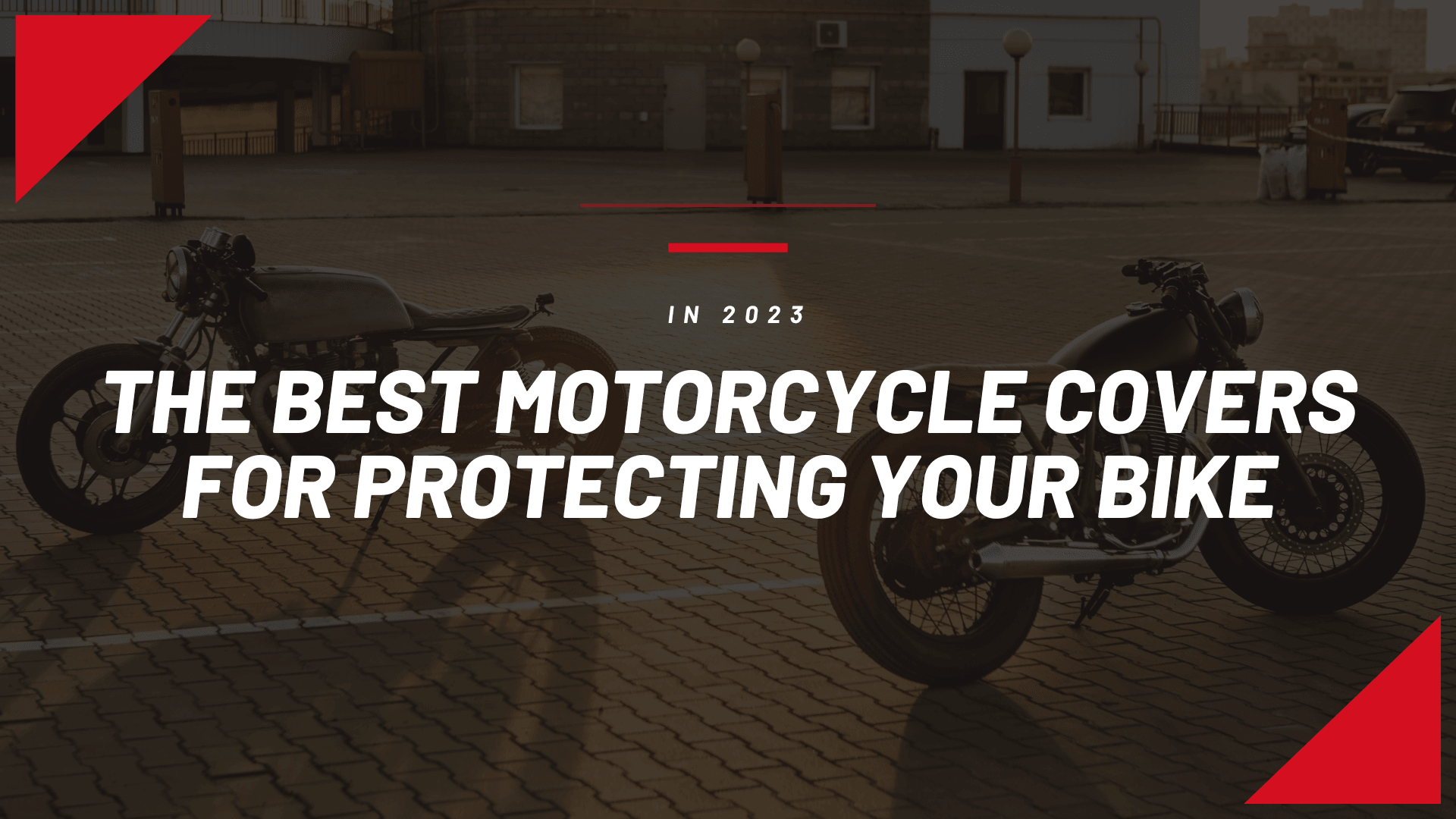 The Best Motorcycle Covers For Protecting Your Bike in 2023 | XYZCTEM®
by: Clarie Lum -
Motorcycle covers are one of the protective measures to ensure the durability of a motorcycle. Unlike cars, the key components of motorcycles are more exposed, making them prone to dents and damage.
Motorcycle covers are an excellent investment whether your bike is parked outside or inside for an extended period. Motorcycle Covers protect your bike from environmental elements such as rain, wind, UV rays, dirt, debris, and cosmetic damage.
Hence, it is imperative to purchase the right motorcycle cover that can help keep your bike in good condition while preventing the added expenses of footing costly repair bills.
This article will give an insight into the qualities of a good motorcycle cover and the best motorcycle covers you should consider when purchasing one.
5 Top Qualities of a Good Motorcycle Cover
When shopping for a high-quality motorcycle cover, look for these qualities before purchasing.
1. Waterproof  
A good motorcycle cover must be made of a durable waterproof material to prevent moisture from getting to the bike and causing rust or other cosmetic and mechanical damage to your motorcycle.
2. Heat-resistant Materials
Motorcycles get hot after a long ride. And if you must cover your bike immediately after the long ride, ensure your motorcycle cover is equipped with heat-resistant material or a heat shield to help protect the cover from melting or getting damaged.
3. Compact Storage
 If you are a big fan of adventure or long rides, consider a motorcycle cover with a compartment fit to keep valuables and a bottle of water.
4. Soft inner Lining  
 A cover with either a cotton or fleece inner lining is better and has a smooth feel on the bike's exterior to protect your bike's paint and chrome from dents or scratches.
5. Anti-UV materials
A good motorcycle cover will protect your bike from the sun and other elements like rain and wind. Look for a cover chemically treated for UV protection or with an aluminum outer layer.
These five qualities must be present in all motorcycle covers to guarantee the cover can protect your motorcycle's paint, chrome, and other exposed parts against harsh weather conditions and other factors.
So, it is established that motorcycle covers are a must-have for every biker. Although they are not all made of the same material or purpose, each cover is fashioned with materials suitable to serve a specific purpose better.    
Types of motorcycle covers
1. Dowco Guardian Weatherall Plus Motorcycle Cover
The Dowco Guardian Weatherall Plus motorcycle cover is renowned among every other motorcycle cover. It comes in various sizes, with an exterior made with a waterproof heavy-duty nylon fabric. It is heat-sealed and taped seams. It has a Guardvent System to prevent moisture buildup underneath and mildew-resistant undercoating. The price range is about $110
Features.
---It is made with heavy-duty waterproof fabric with heat-sealed and taped seams
---It has Guardvant System to prevent moisture buildup and mildew
---Consist of a sewn-in pocket to pair with an alarm system
---It comes with a lifetime warranty
2. Tourmaster Elite Motorcycle Cover
The Tourmaster Elite is a more affordable alternative to the Dowco that still offers 100 percent waterproof fabric with double-stitched and taped seams and ventilation to prevent moisture and condensation buildup. It cost about $55
Features.
---100 percent waterproof with double-stitched and taped seams
---Well-ventilated to prevent moisture and condensation buildup
---It has a protective heat panel against the hot areas of the bike
---It has a soft liner that protects the windshield and tail-section
3.Nelson-Rigg Deluxe Motorcycle Cover
Nelson-Rigg Deluxe Motorcycle cover is a perfect fit for bikers who prefer a half cover to a full bike cover. It is easy to wear and take off, especially in a hurry. It is a waterproof cover with sealed seams to prevent water leakage during inclement weather. It cost $35.
Features.
---It has a one-year warranty
---It is lightweight (1.0 pounds)
---Affordable price
---UV-treated fabric to avoid fading
---Soft windshield liner protects against scratching
---Great protection for mild weather conditions.
4. Seal Skin Supreme Motorcycle Cover
The seal skin supreme motorcycle cover has ultrasonically welded seams and a built-in elastic hem that prevents it from blowing away. It protects your bike against rain, sun, sleet, and hail. It is a perfect match for a bike parked outside or without a roof over it in harsh weather conditions.
It has a seal tech feature allows free airflow to circulate within the cover and keeps out any inclement weather. It cost around $110.
Features.
---It comes in various sizes and fits various motorcycles
---Hail- and UV-resistant
---Soft fleece interior lining
---Vent system included
---Lifetime warranty.
---It comes with a storage bag and free shipping.
5. XYZCTEM All-Season Motorcycle Cover
If you are searching for a pocket-friendly motorcycle cover within the price range of $20, the XYZCTEM all-season motorcycle cover is a perfect fit. The XYZCTEM All-Season Motorcycle Cover has amazing features that protect your bike from water, heat, dirt, and debris while releasing trapped moisture. It is durable, waterproof, and breathable, making it a good choice for an outdoor motorcycle cover.
Features.
---Universal fit
---Weatherproof and waterproof
---Double-stitched fabric
---Affordable
---One-year warranty.
---The XYZCTEM motorcycle cover has two lock holes and adjustable straps to protect your bike against theft.
6. The Oxford Stormex Cover
The Stormex is an outdoor cover with a tough outer that will protect your bike from rain, sun, snow, and dust. It is backed up with a padded lining to shield against small accidental bumps and knocks while parked.
Features.
---Adjustable belly strap to hold it in place
---Heat-resistant lining material in case of momentary contact with the exhaust
---Wrap-around splash protector prevents water from being absorbed up the lining
---The lock pouch helps to keep your padlock off the ground
---Front inner pocket with PVC window to hold a solar panel charger.
conclusion
Ultimately, purchasing a motorcycle cover is less expensive than the price it will cost to repair the damage caused by not having one. However, you can make a good choice of motorcycle covers from the list considering the features that best suit your needs.