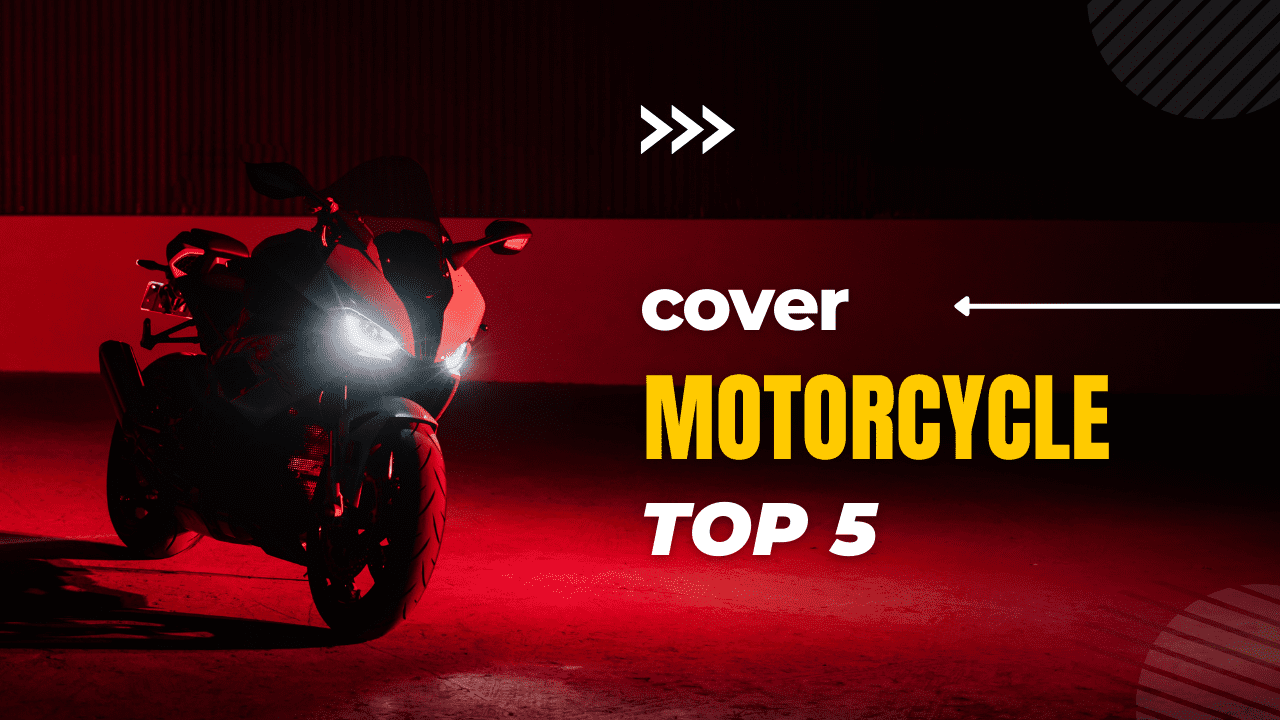 Best Motorcycle Cover: Buyer's Guide | XYZCTEM®
by: Clarie Lum -
What's your plan for protecting your motorcycle against nature's harshest conditions?
Your motorcycle is your investment and trusts me, it must be protected. After spending so much on acquiring that outstanding motorcycle be it yahama MT- 03 or Kawasaki Ninja 400, you wouldn't want any damage to occur to it right?. You can protect your motorcycle by selecting the best motorcycle cover made with high-quality materials and every lasting durability.
What you should know: Choosing your Motorcycle cover
Before choosing any motorcycle cover, it is very vital to consider some basic factors. These factors may depend on whether your motorcycle is in for indoor, or outdoor, the quality, and the price.
Motorcycle covers are made in different sizes, materials, and shapes as well as the level of protection they offer. So it is highly advisable to choose a motorcycle cover that best suits your needs.
The following are what you should know when choosing a motorcycle cover
Are you planning on leaving it indoor or outdoor?
If you plan to leave it indoors, then it is better to have a lightweight cover that will help in retaining dust and keep the motorcycle in a good-looking condition. On the other hand, if it is for outdoor purposes then a heavier cover is required to protect it from adverse effects of rain, salt, heat, and UV rays. Having a heavier cover for your motorcycle when it is outdoor helps in protecting it against thieves and vandals
What size are you looking at?
Motorcycles are made in a variety of sizes so therefore you should know exactly the size that best suits your motorcycle. You can do that by measuring the size of your motorcycle and then comparing it with a variety of sizes of cover available. This way, you will find a cover that best fits your motorcycle.
What kind of Materials do you want?
Different materials are being used when manufacturing motorcycle covers and these materials vary in thickness, weight, and protecting qualities. High-quality motorcycle covers are made from lightweight and waterproof materials. Waterproof and lightweight materials are ways of preventing rain, snow, or other related substances from damaging your motorcycle and keeping it in good-looking condition.
What Is your budget or price?
Knowing how you can afford will help in choosing the quality, material, and brand of motorcycle cover. High-quality material covers are expensive but trust me, you will enjoy using them because they will surely provide you with that protection you need for your motorcycles. Low-quality materials cover can as well as provide some weather protection but they can't provide long-lasting protection for your motorcycle. With the price in mind, it is advisable to go with motorcycle cover made with great quality materials.
With all these well known, you can then decide to buy the motorcycle cover that best fits your motorcycle.
The following are the best motorcycle cover
XYZCTEM All season motorcycle cover is highly recommended because of durability and the affordability features it offers. It gives protection against heat, dirt and water thereby leaving your motorcycle with a good-looking condition.
XYZCTEM covers has nylon oxford fabric which makes it waterproof, durable and breathable and these makes it one of the best motorcycle cover for outdoor purposes.
It has two lock holes and two adjustable trap to provide protection against high wind and theft.
XYZCTEM All season motorcycle cover has a universal fit up to 108 inches making it fit for any motorcycle within that range.
Features
It's amazing features include
It is waterproof and weatherproof
It has two lock holes and two adjustable wind strap
It comes with a storage bag
It has a soft inner lining
It has front and rear elastic hem.
Dowco covers provides protection against UV rays, rain,wind and cosmetic damages that may occur. It has a cotton base fabric which provides protection for exhaust motorcycle pipes and these ensure that the rest of the material cover and water proof coating are in good condition.
It's available in 12 varieties size and two colors with high quality material making It suitable for both indoor and outdoor purposes.
Features
It has a soft inner lining
It is available in 12 different sizes
It has lock holes and a belly strap
It has a venting system which makes your motorcycle cool and dry
It has a storage bag
Platinum shield motorcycle cover is best known for its water resistant, snow resistant , UV protection, fit and durability.  It has multi layer covers which provides protection against water, dirt, heat and all sorts of weather conditions.
Platinum Covers have inbuilt vent and synthetic materials which hold against mold and mildew. It has reflective outer layer which is beneficial when parking at night because it will make your  motorcycle to be visible in low lighting.
Features
It has a venting system
It is water resistant and weatherproof
It has storage bag
It has elastic front and rear hem
It has soft fleece inner layer.
Velmia outdoor waterproof cover is known for its cost effectiveness, durability, warmth and overall weather resistant. It protect your motorcycle from UV rays, wind, water, dust and heat.
Velmia outdoor waterproof cover is made with high quality fabrics that can tolerate temperatures up to 575 degrees.
Features
It's features include
It has heat resistant fabric
It has soft fleece inner layer
It has adjustable securing straps
It is waterproof and weatherproof
It has venting system.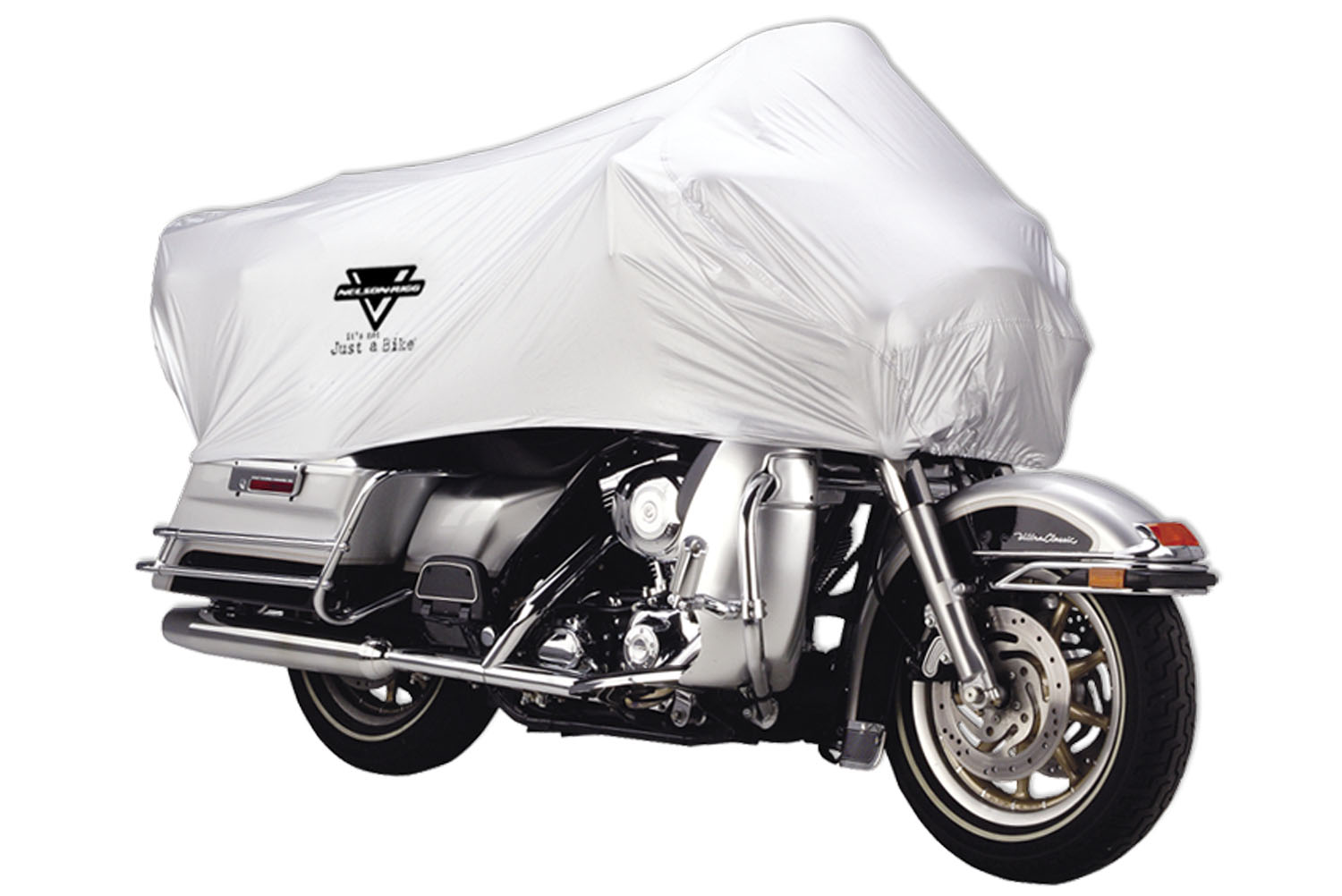 Nelson-Rigg Defender offers material that is lightweight, water resistance , durable and this makes it best fit for motorcycles with half cover demands.
It is waterproof, waterproof and it provides protection against all sort of nature harshest conditions. It has elastic hem and elastic bungees which makes it easy for use and universal fit for many motorcycles
Features
It has elastic hem and elastic bungees
It is weatherproof and waterproof
It has storage bag
It has a UV resistant nylon
It has heat-sealed seam.
Final thought
Protecting your motorcycle against wind, heat, rain, dust UV rays and cosmetic damages are key essential to make your motorcycle last longer whilst maintaining its colors, quality, durability and efficiency .