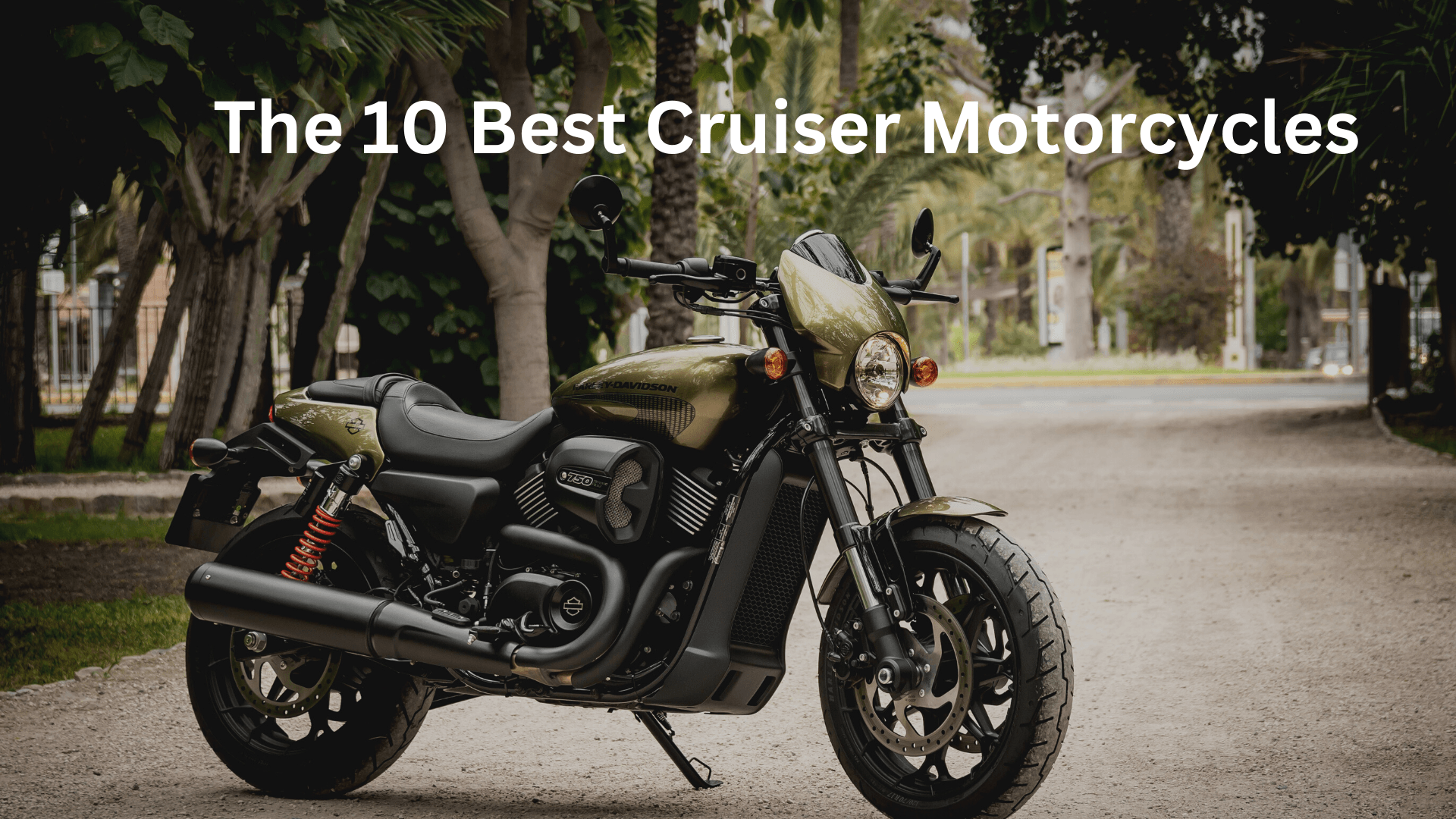 The 10 Best Cruiser Motorcycles to Ride in 2023 | XYZCTEM®
by: Clarie Lum -
If you love adventure or long rides, consider riding cruiser motorcycles for maximum comfort. It has a relaxed seating position and low seat height, making it one of the best bikes for light trail or city riding excursions. 
Cruisers are large, heavy motorcycles with big-inch, high-torque engines, lower seats, and forward controls. If you need clarification about purchasing the best cruiser motorcycles, this article meets you well.
We would have an insight into the best cruiser motorcycles for 2023 with their features, ultimate uses, MSRP, and specifications attached. Whether you are a beginner or an expert, you will find the one that best suits you. Let's ride!
Best Cruiser Motorcycle in 2023
Ducati Diavel V4
Unlike other Diavel, Ducati Diavel V4 is the best cruiser motorcycle in 2023. It combines some elements of Ducati and a high-tech Granturismo V4 engine, making it distinct from its predecessor. 
The Ducati Diavel V4 is a two-wheeler motorcycle with excellent brakes. Despite its large fuel tank and additional cylinders attached to it, it is 24% lighter than its predecessor, the Diavel 1260. 
Specs and Features 
Power: 168 HP

Engine: 1,153cc, DOHC, liquid-cooled, 90-degree V-4 w

Torque: 93 lb-ft

Fuel capacity: 5.4 gallon

Transmission: 6-speed

MSRP: $26, 695
Triumph Rocket 3R
Rocket 3R is the latest cruise motorcycle by Triumph, and it ranks second in the best cruiser motorcycle in 2023. It has a 2458cc engine producing 165 hp and 163 lb-ft of torque. Its brilliant steering geometry tricks give it agile handling, which makes it a perfect fit for twisty roads. Judging from the physical appearance, it is indeed a badass motorcycle.
Specs and Features 
Power: 165 HP @ 6,000rpm

Engine: 2,458cc, liquid-cooled inline 3-cylinder; 12 valves, DOHC

Transmission: 6-speed

Fuel capacity: 4.8 gallon

MSRP: $24, 795
Hyosung Aquila GV300S
Hyosung Aquila GV300S is a high-tech cruiser motorcycle with a killer appearance. It is classy and beautifully designed. The bike kick-starts automatically and has a cooling system in case of overheating. It fits as one of the best cruiser motorcycles in 2023 as it checkmarks two important elements of a motorcycle: power and efficiency. It is comfortable and safe for long-distance rides.
Specs and Features
Power: 26 bhp @ 8500 rpm max

Engine: Oil-cooled, 75-degree V-twin, 8-valve, DOHC

Max Torque: 23.5 NM @ 7000 rpm

Fuel capacity: 14 liters

MSRP: $ 4,416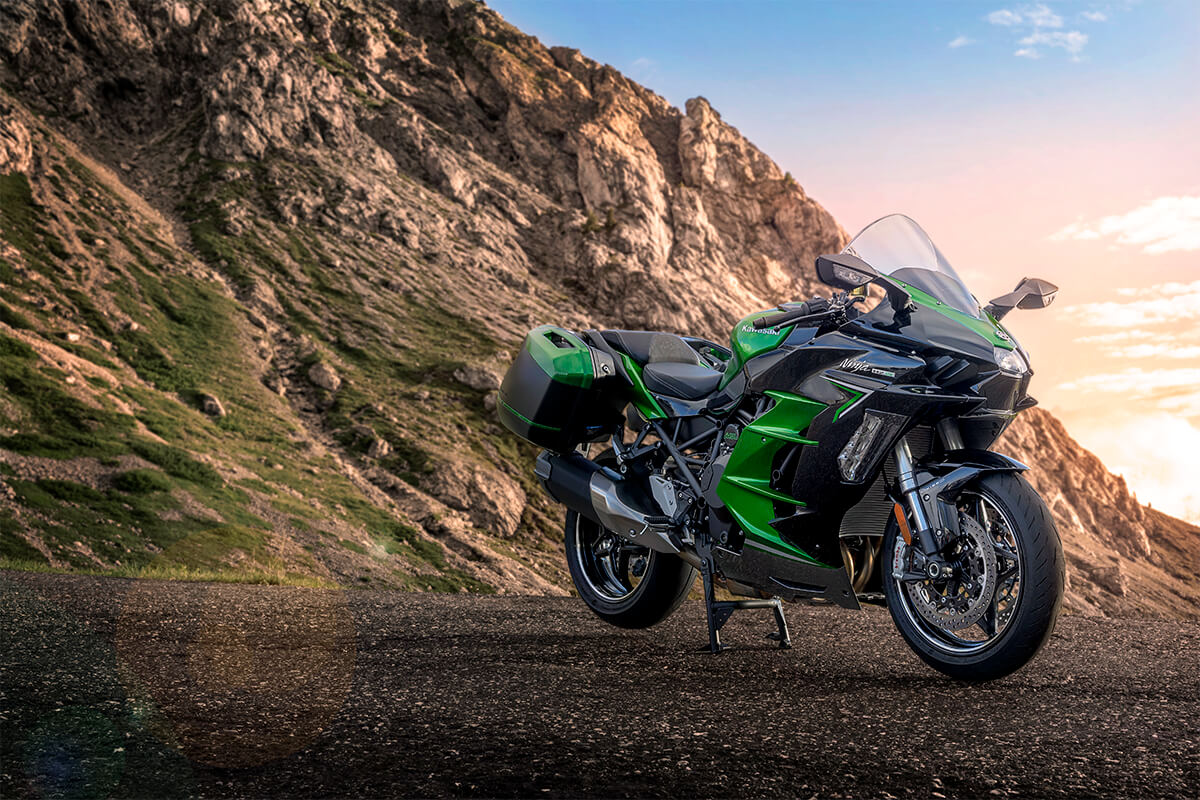 Kawasaki H2 SX SE
The supercharged inline-four engine of 998cc saddled with giving riders a goose skin wins solid evidence that it is worth one of the best cruiser motorcycles in 2023. Beneath the windscreen, the Kawasaki H2 SX SE has a high-tech camera sensor that determines the activation of the motorcycle's high beam due to excessive lights from other vehicles. 
Specs and Features
Power: 197 HP

Engine: 998cc liquid-cooled, 4-stroke, 16-valve in-line four, DOHC

Torque: 101 lb-ft 

Dry weight: 591 lbs

Fuel Capacity: 5 gallons

MSRP: $28,000
BMW K1600
If you find the R1250 RT less adventurous, try the German marque's quiet giant, BMW K1600. Over time, BMW hardly deviates from its models but comes back with improved technology and gadget. Unlike previous models, the BMW k1600 has a 10-inch TFT dashboard, a more premium sound system, and adaptive headlights.
 It has a rate of 160 HP output at 6,750 rpm. It has extraordinary engine brake control and an ESA, which helps provide stability.
Specs and Features 
Power: 160 HP

Engine: 1649cc liquid-cooled inline four-cylinder

Torque: 132.7 lb-ft

Weight: 756 lbs

MSRP: $23,895
Honda Goldwing
Known for its long-distance comfort, outstanding power and torque, and active handle, Goldwing is also one of the best cruiser touring motorcycles. It has sophisticated technology features such as Bluetooth connectivity and Apple Carplay. It has a smooth 1833 cc six-cylinder engine, refined bodywork for weather protection, and ample luggage.
Specs and Features
Power: 125 HP 

Engine: 1,833cc flat-six

Torque: 130 lb-ft

MSRP: $25,600
Indian Scout Rogue
Indian Scout Rogue fits everyone's taste starting from the great design with unique lines and bobbed fenders. Its stability helps beginners boost their confidence, making them eager to hit the road. It has a liquid-cooled engine that submerses overheats. 
The Indian Scout Rogue is an upgrade of the scout models, and it is the most aggressive-looking version of the Scout family. It has a club-style makeover comprising mini-ape bars, a quarter-fairing wrapped around the headlight, a 19-inch cast-aluminum front wheel, and murdered-out components.
Specs and Features 
Power: 100 HP

Engine type: Liquid-cooled 69 cu in V-twin

Fuel capacity: 3.3 gallon

Transmission: 6 speed

MSRP: Starting from $12,999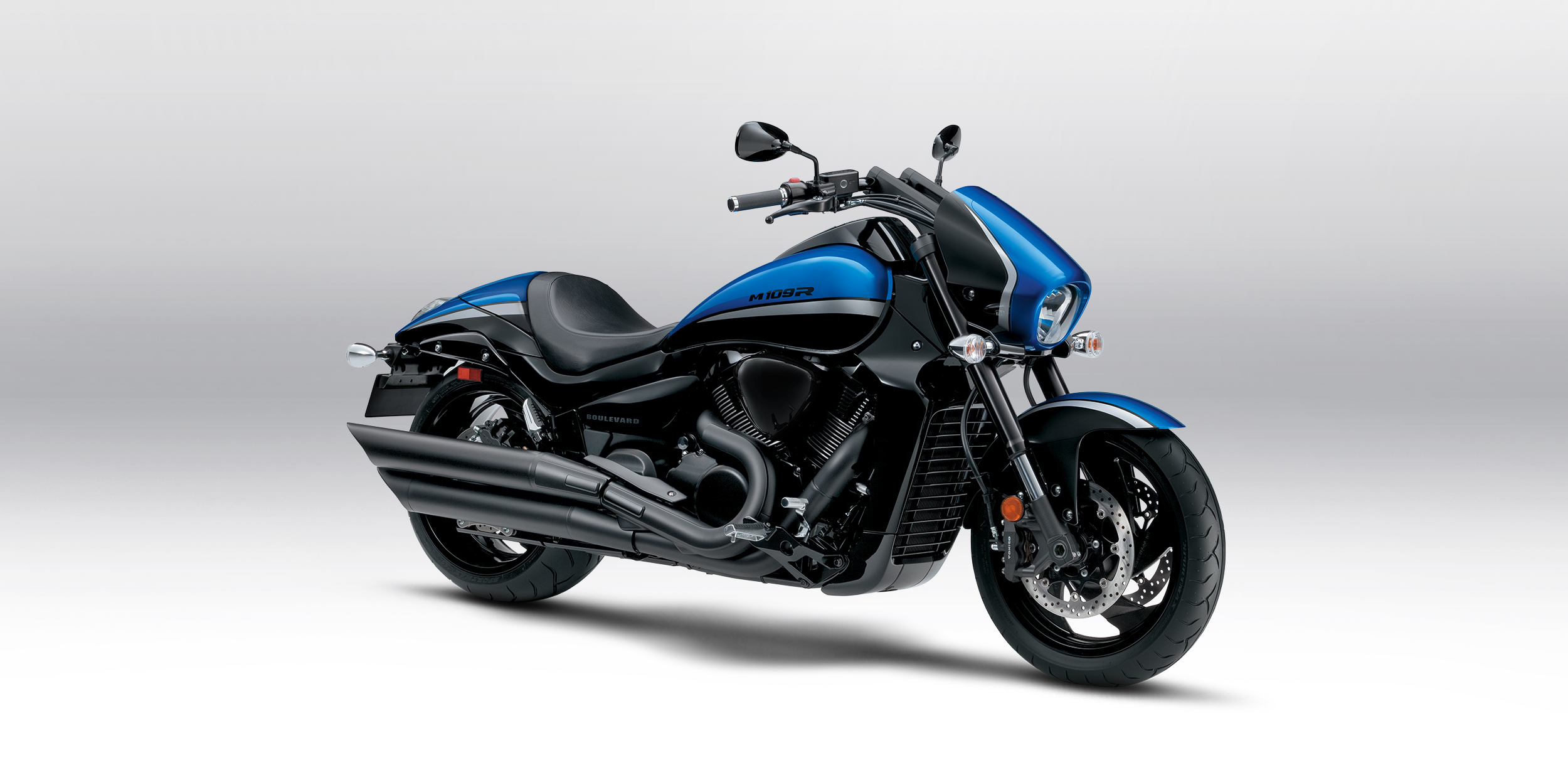 Suzuki Boulevard M109R B.O.S.S
The Suzuki Boulevard M109T stands out among every other cruiser bike. The M109R has a powerful V-twin engine with some of the largest pistons in the industry. The cubic-inch engine is wrapped with aggressive blacked-out styling, including drag-style bars, a supplied solo seat cowl, slash-cut mufflers, and a distinctively shaped nacelle headlight. 
The chassis features include a low-profile 240/40 * 18, the largest rear tire ever used on a Suzuki motorcycle. 
Specs and Features
Engine: 1783 cc 

V-twin: 54-degree 

MSRP: $15,599
BMW R18
The BMW R18 is the only cruiser bike that competes against Harley-Davidson. It is stuck with a boxer engine rather than the regular V-twin route. BMW R18 boxer engine has a 1,802cc displacement and produces a decent 91 horsepower and a massive 116.5 ft-lb of torque. It has an ASC stability control that makes it easy to ride without the fear of tripping off. It is built with metal.
Specs and Features 
Power: 91 HP at 4,750 rm

Compression ratio: 9.6:1

Bore*Stroke: 4.2" * 3.9";

MSRP: Starting from $14,995
Moto Guzzi V9 Bobber
If you are a rider who loves attention, then the moto guzzi v9 is the right spec for you. It has sophisticated technology, and Moto Guzzi custom bikes have been among the world's most popular cruisers. It is a sporting car with an overhauled twin-cylinder 850cc, 65 horsepower, 53.8 ft-lb engine, and advanced frame. It is fuel efficient.
Specs and Features 
Power: 64 Hp

Engine: 853cc air-cooled transversal 90% v-twin

Torque: 53 ft-lbs

MSRP: Starting from $10, 490
Conclusion
Do you still need clarification about the best cruiser motorcycles to ride? Just pick the one that suits your specification. Whether you want to tour, race, or ride a cruiser for the first time, choose from the above-listed motorcycles. Have a safe ride!