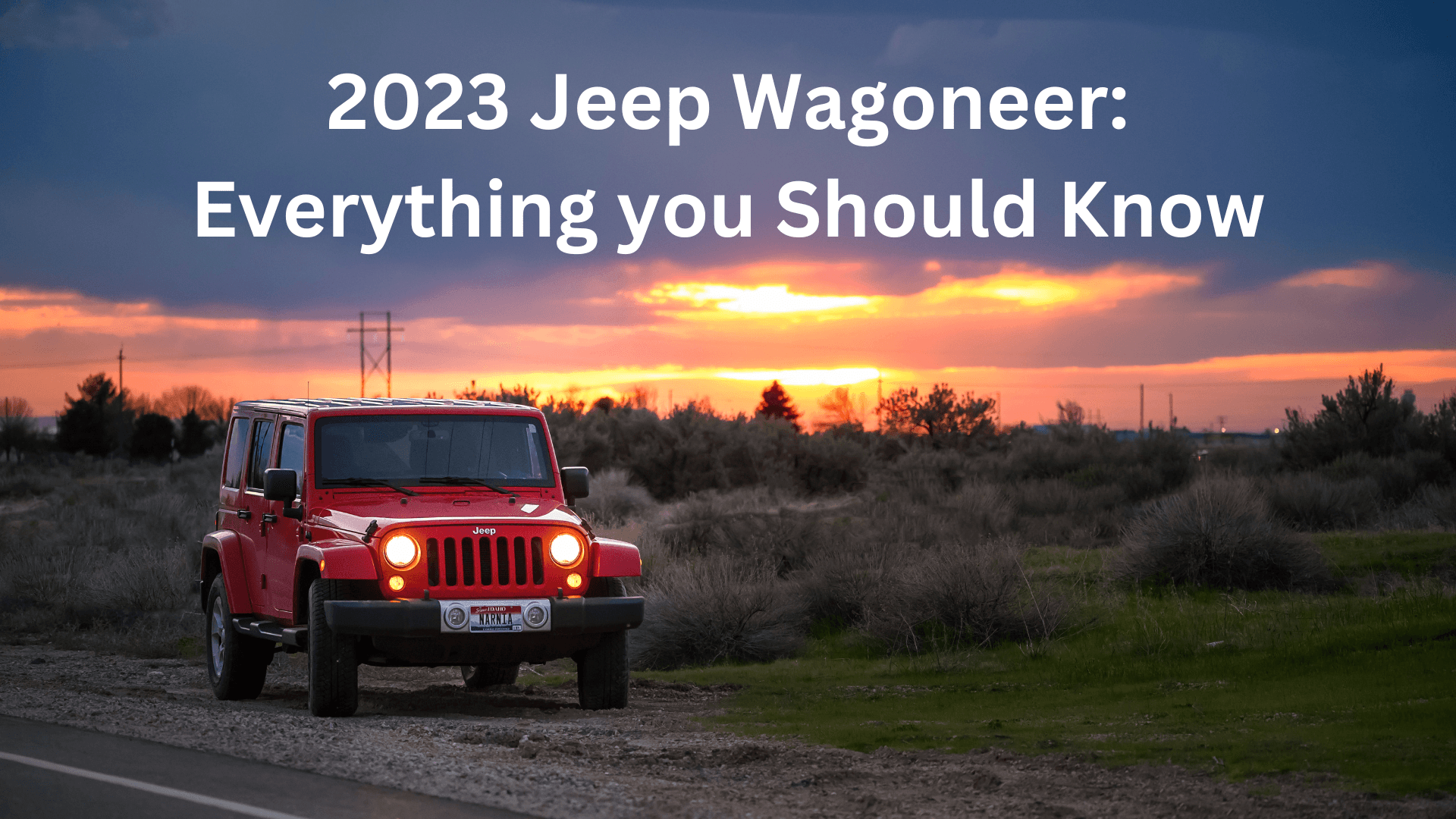 2023 Jeep Wagoneer: Everything you Should Know | XYZCTEM®
by: Clarie Lum -
The 2023 Jeep Wagoneer model is standing firm in its second year on the automobile market. It is the latest addition to the Jeep family, with several impressive upgraded features.
It is designed to feature a long-wheelbase L model with 12 inches added to its total length and an additional 7.0 inches of wheelbase. The extension provides extra passenger and trunk space than previous Wagoneer models.
The 2023 Jeep Wagoneer introduced a twin-turbocharged inline-six-cylinder engine which replaces the V-8 engine. Also, a blacked-out carbide appearance package has been made available. This includes gloss-black wheels, black exterior trim detailing, and unique interior trim and furnishing.
However, this article aims to review the 2023 Jeep Wagoneer model and educate you on the essential maintenance culture of the vehicle model. Ride with me!
Features of the 2023 Jeep Wagoneer Model
Design
The 2023 jeep wagoneer adopted the bold and modern design of the original Wagoneer but with modern touches. It features a seven-slot grille, LED lighting, and 22-inch wheels, as well as optional wood accents.
Interior
The interior of the 2023 Jeep Wagoneer is spacious to take in eight passengers. You can fold the second and third seat rows to create extra cargo space. It is covered extensively with screens and a 10.3-inch digital gauge display that gives the driver a clear readout. The Wagoneer has a 12.3-inch digital instrument cluster, a 12.1-inch infotainment touchscreen, and a 10.25-inch passenger touchscreen display.
Powertrain
The 2023 Jeep Wagoneer has a standard 5.7-liter V8 engine that produces 392 horsepower and 404 lb-ft of torque, paired with an eight-speed automatic transmission. It also has a hybrid powertrain option that combines a 3.6-liter V6 engine with an electric motor for 375 horsepower and 470 lb-ft of torque.
Safety Features
The 2023 Jeep Wagoneer has several advanced safety features, including adaptive cruise control, lane departure warning, automatic emergency braking, and blind-spot monitoring. It also comes with a 360-degree camera system for improved visibility.
Off-Road Capability
Like every other Jeep, the 2023 Wagoneer is also designed for off-road adventures. It comes with the Quadra-Lift air suspension system that allows you to adjust the ride height for better ground clearance. It also comes with the Selec-Terrain traction control system, allowing you to change the traction settings to fit any terrain for optimal performance.
So, if you would agree with me based on the review, the 2023 Jeep Wagoneer is a perfect fit for families or anyone looking for a versatile and capable SUV.
However, irrespective of the comfort and juicy features of the 2023 Jeep Wagoneer, you should also equip yourself with the pros and cons before deciding to buy one.
Pros of the 2023 Jeep Wagoneer
---Spacious and Luxurious Interior: As earlier mentioned, the Wagoneer offers a spacious and luxurious interior with premium materials and advanced technology, promising a comfortable and enjoyable ride.
---Powerful Engine Options: The Wagoneer has a standard 5.7-liter V8 engine and an optional hybrid powertrain, offering impressive power and effective automobile performance.
---Advanced Safety Features: The Wagoneer has various advanced safety features, including adaptive cruise control, lane departure warning, automatic emergency braking, and blind-spot monitoring.
       Cons of 2023 Jeep Wagoneer
---Price Range: The Wagoneer is a luxury SUV with a price range of $60,000 to $80,000, which may be too expensive for some buyers.
---Fuel Economy: Wagoneer's powerful engines may result in lower fuel efficiency, which may concern some buyers spending a lot on gas.
---Size: The Wagoneer is a large SUV, which may make it difficult to maneuver in tight spaces or park in smaller spots.
---Brand Reputation: While Jeep has a strong reputation for off-road capability, some may view it as a less prestigious brand compared to other luxury SUV manufacturers.
As with any other automobile, the 2023 Jeep Wagoneer requires proper regular maintenance for optimal performance and to avoid potential technical difficulties. Here are some maintenance tips for the Wagoneer.   
         How to Maintain your Jeep Wagonee
Oil Filtration: Regular oil changes are essential to keep the engine running smoothly. Jeep recommends changing the oil every 7,500 miles or 12 months, whichever comes first.
Tire Pressure Gauge and Rotation: Regular check-up of your tire pressure prevents you from having low pressure for a smooth ride. You can also regularly rotate to ensure even wear and prolong the tires' life. Rotating your tires every six months or after 7,500 miles is advisable.
Brake Inspections: Regular inspections of the brakes can help notice potential problems early to prevent experiencing brake failure. It is required to inspect your brakes every 15,000 miles.
Fluid Check: Regular checks of the engine coolant, brake fluid, transmission fluid, and other fluids are essential to ensure that the vehicle is running properly.
Air Filter Replacement: The engine air filter should be replaced regularly to ensure the engine receives clean air for optimal performance. It is necessary to clean and replace the air filter every 30,000 miles.
Timing Belt Replacement: The timing belt should be replaced at the recommended intervals to avoid potential engine damage. However, replacing the timing belt every 150,000 miles would be best.
However, following the manufacturer's maintenance routine (if any) is important to keep the Wagoneer running smoothly and in good condition for more extended durability. Addressing any urgent issues would be a great idea to avoid further damage and costly repairs.
HOW TO PREVENT JEEP CARS FROM SCRATCHES
Suppose you are prone to driving or parking in potentially damaging environments. In that case, it is of utmost priority to take proactive steps to prevent unwanted blemishes such as scratches, and sunlight damage, among other factors. And a perfect protective measure is to get a Jeep car cover.
A jeep car cover will prevent your coat from harsh weather or environment, scratch, and fading off. It protects the Jeep against outdoor damage and dirt and keeps the car body working in pristine condition. There are specially made materials (woven polyurethane) that make the car cover waterproof while also serving the major purpose of scratch prevention.
A car cover is also fashioned for security purposes, keeping your vehicle's interior away from prying eyes and possibly potential theft attempts.
Conclusion
The 2023 Jeep Wagoneer is one the latest models on the automobile market with massive advanced upgrades, which make it a desire for many. If you take that step of the purchase, the experience is more satisfying when great work is put into maintenance and protection.